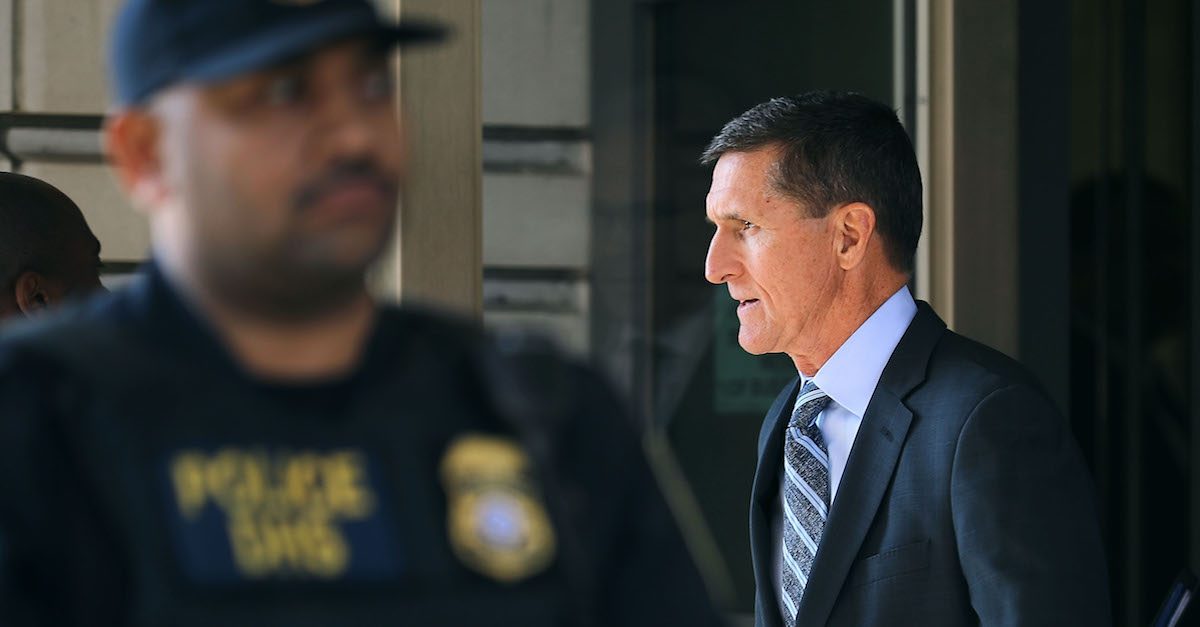 General Michael Flynn is currently in a D.C. area Federal court receiving a harsh reprimand from Judge Emmett Sullivan over his guilty plea that he lied to FBI agents in early 2017 over calls with Russian Ambassador Sergei Kislyak and his failure to report himself as a foreign agent.
A major talking point over the past week on outlets supportive to President Donald Trump was that Flynn was a victim of entrapment by FBI agents. Judge Sullivan, who is a Republican-appointed judge, gave the opportunity for Flynn a chance to change his plea agreement, but Flynn refused, which single-handedly undermined week's worth of opinion primetime programming on Fox News.
Despite Special Counsel Robert Mueller's recommendation of no prison time, Judge Sullivan threatened time in prison.  Sullivan said Flynn's admitted crimes "undermines everything this flag over here stands for! Arguably, you sold your country out!" before suggesting his acts are treasonous.
No television cameras were allowed inside the proceedings, however, White House reporter for CBS News Steven Portnoy was inside the courtroom and provided the following dramatic account:
One final time, and still sounding skeptical, Sullivan asks Flynn, "If you want to proceed because you are guilty of this offense…"

Flynn says he is, and wants to proceed.

Sullivan accepts the plea.

— Steven Portnoy (@stevenportnoy) December 18, 2018
Sullivan repeats the phrase "very serious offense" to describe Flynn's crime… "in the West Wing!"

"The aggravating circumstances are serious," Sullivan says.

— Steven Portnoy (@stevenportnoy) December 18, 2018
SULLIVAN WARNS FLYNN OF A PRISON SENTENCE:

"You were an unregistered agent of a foreign country while serving as the National Security Adviser to the president!

"Arguably, this undermines everything this flag over here stands for! Arguably, you sold your country out!"

— Steven Portnoy (@stevenportnoy) December 18, 2018
Sullivan: "I'm not hiding my disgust, my disdain, for this criminal offense."

Giving Flynn the chance to delay until he's finished cooperating, Sullivan says he "can't promise anything" about the sentence he's about to hand down.

— Steven Portnoy (@stevenportnoy) December 18, 2018
I gotta tell you folks, this is pretty good drama.

It's a shame federal courts have decided the public shouldn't be able to see this on television.

— Steven Portnoy (@stevenportnoy) December 18, 2018
DID FLYNN COMMIT TREASON?

Sullivan is now asking the special counsel's office whether it ever considered charging Flynn with treason.

Prosecutor Brandon Van Grack struggles to answer, saying it wasn't considered.

— Steven Portnoy (@stevenportnoy) December 18, 2018
Sullivan recesses until 12:30pmET because Flynn has asked for the chance to confer with his lawyers before moving forward…

— Steven Portnoy (@stevenportnoy) December 18, 2018
UPDATE: It appears that Judge Sullivan is walking back his "treason" comment:
Sullivan begins by BACKTRACKING on his remarks that Flynn was an unregistered foreign agent while working in the White House, and that he may have committed treason.

— Steven Portnoy (@stevenportnoy) December 18, 2018
"I felt terrible about that," Sullivan says, after the prosecutor notes Flynn's conduct as a foreign agent ended in mid-Nov 2016.

"I'm not suggesting he committed treason," Sullivan adds, further apologizing for his remarks in the prior session.

— Steven Portnoy (@stevenportnoy) December 18, 2018
(Photo by Chip Somodevilla/Getty Images)
Have a tip we should know? tips@mediaite.com