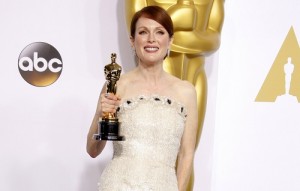 Academy Award-winning actress Julianne Moore and producer Rob Cohen started an online petition to change the name of their high school alma mater in Fairfax County, Virginia.
Moore and Cohen met as eighth graders the year before attending J.E.B. Stuart High School in the late 1970s. Named for the Confederate general J.E.B. Stuart in protest of the Brown v. Board of Education decision five years prior, Stuart High School opened in 1959.
Spurred by the events in Charleston, South Carolina, and Confederate flag protests and rallies throughout the American South, Moore and Cohen opened a Change.org petition in August calling for the Fairfax County School Board to rename Stuart. They're specifically requesting that the school board rename it in honor of Thurgood Marshall, the first African-American Supreme Court Justice and "a member of [the Fairfax] community."
Aside from the heightened attention Moore and Cohen's names have brought to the origins of Stuart High's name, WaPo also notes that the school's student body "is among the most racially diverse in a county that serves the 10th-largest student population in the United States":
Almost half the school's students — 49 percent — are Hispanic, while 24 percent are white, 14 percent are Asian and 11 percent are black. Six in 10 students at Stuart — the highest percentage in Fairfax — qualify for free or reduced-price meals, a federal measure of poverty.
As of this writing, the Change.org petition has just under 29,000 of the 35,000 signatures needed.
[h/t the Washington Post]
[Image via Shutterstock.com]
— —
>> Follow Andrew Husband (@AndrewHusband) on Twitter
Have a tip we should know? tips@mediaite.com