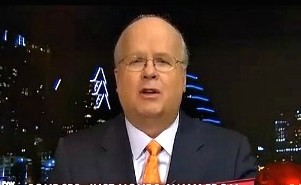 In a Wall Street Journal op-ed published Wednesday, veteran Republican strategist Karl Rove outlined why he believes the idea of having a GOP-controlled Senate come January isn't as easy as advertised.
Although many recent polls now give Republicans the advantage in the general Congressional ballot, Rove says Republicans should still be worried because Democrats have so far been raising and spending more money than the GOP.
Rove acknowledges the inherent advantages Republicans have in midterm elections, including enthusiasm, engagement, and President Obama's low approval numbers. But Democrats, according to Rove, have the money advantage.
"On Tuesday the Democratic Senatorial Campaign Committee announced it raised $7.7 million in August, $1.6 million more than the National Republican Senatorial Committee raised. The DSCC had $25 million cash on hand on August 31, the NRSC $20 million."
In addition, Rove said, Democrats have committed $109 million in television ads, while the GOP only used a scant $85 million.
In response to these figures, Rove encouraged Republicans to "step up" if they want to reduce the spending gap, but stressed Republicans don't need to outspend the Democrats to win in November.
He outlined a two-part plan in which he called on Republicans to make the case for a candidate who will act as a "check and balance" to President Obama, and to "offer a positive, optimistic conservative agenda" in order to sway disillusioned independents their way.
Finally, Rove issued a call to arms to Republicans nationwide to "open up their wallets" and "clear their calendars" — or get ready for two more years (at least) of Harry Reid.
[Image via Fox/screengrab]
— —
>> >>Follow Andrew Desiderio (@forza_desiderio) on Twitter
[Note: Mediaite intern Andrew Desiderio is a student at The George Washington University.]
Have a tip we should know? tips@mediaite.com