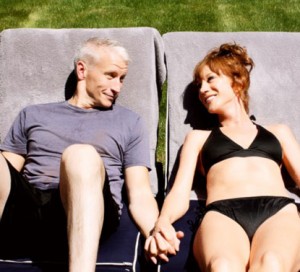 In a post published on The Daily Beast, comedian and talk show host Kathy Griffin shares that, while she has, of course, long known that her friend Anderson Cooper is indeed gay, she would never have dreamed of outing him.
RELATED: Anderson Cooper: 'The Fact Is, I'm Gay, Always Have Been, Always Will Be'
She writes:
Believe it or not, I don't "out" people. It is neither my business nor my desire. Remember, folks, I am a comedian, not a journalist. These weren't questions where I could make a joke about Ryan Seacrest getting a mani/pedi. This isn't a joke I make about whether Oprah and Gayle are gay lovers. I have no idea if Oprah and Gayle are gay lovers. I doubt they are, but as a comedian, I find some comedy in picturing those two girls running the world as a power couple. Anderson is someone who has led a very specific kind of professional life, who never talked and simultaneously exhibited social contradictions. And quite frankly, he never gave me permission to speak about something that represented the one part of his life he was not comfortable having confirmed in the media. But in my dealings with a certain sector of the press, that simply was never good enough.
When she told her friend that she was constantly asked about his sexual orientation, Cooper replied, "Kathy, I don't get asked as much about my sexuality as you get asked about my sexuality. But here's my standard party line: 'I want to report the news. I don't want to be the news.'"
And while she is glad he's finally publicly out and open, she worries both for Cooper and for younger gay people who, once out, face the additional hurdle of making their way through a world that can be not only discriminatory, but dangerous.
"Here's the thing," she tells readers. "I love my friend Anderson and remain immensely proud of him. And I'm honored, truly, that he considers me a friend. But I just want him to be careful. Of course he wouldn't be doing his job if he really were being careful. And he wouldn't be who he is."
You can read her full post over at the The Daily Beast.
Have a tip we should know? tips@mediaite.com