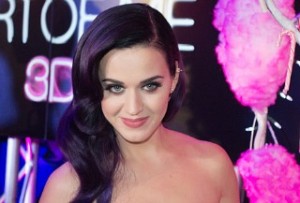 If you got a chance to talk to the President of the United States about anything, what would it be? Would you ask about pushing for a certain policy agenda? Or would you ask him what he does in his down time? Or, like Katy Perry, would you ask him about aliens? In a new interview with GQ, Perry talks about her support for President Obama and says if they had a closer relationship, she would really like to ask him about aliens.

The part about Obama was actually an afterthought, following Perry's explanation as to her belief in astrology and alien life. And who better to ask about that stuff than the leader of the free world?
"I look up into the stars and I imagine: How self-important are we to think that we are the only life-form? I mean, if my relationship with Obama gets any better, I'm going to ask him that question. It just hasn't been appropriate yet."
And while it's almost a guarantee Obama won't say much even if he does know (international security and all that), he did become the first sitting president to publicly acknowledge the existence of Area 51.
Perry also said that she "might have won Wisconsin" for Obama; an obvious joke that led to a rather unnecessary takedown in The Wire.
Other subjects Perry broached were geishas ("Geishas are basically, like, the masters of loving unconditionally."), John Mayer, and how she actually prayed for bigger boobs.
[h/t Mother Jones]
[photo via Liam Mendes]
— —
Follow Josh Feldman on Twitter: @feldmaniac
Have a tip we should know? tips@mediaite.com
Josh Feldman - Senior Editor