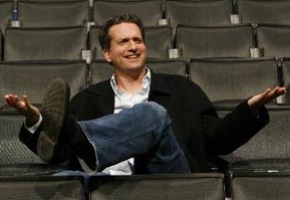 After Friday's new media showdown between MSNBC's Keith Olbermann (via his MLB blog) and ESPN's Bill Simmons (via his Twitter feed), all was quiet over the weekend.
Then yesterday afternoon, Olbermann fired back, and Simmons' editor responded to Mediaite.
Olbermann's latest personal-attack-at-the-end-of-a-baseball-related-blog-post continued to press that a Simmons Tiger Woods column was worthy of the "dumbest sportswriting award of 2010." But then he went personal:
I was stunned to receive several emails from some of Mr. Simmons' bosses there, thanking me for pointing out the absurdity of, and the embarrassment to ESPN provided by, the Woods/Ali comparison.

About five years ago, I guess, somebody said Tony Kornheiser was the most uncontrollable, unmanageable talent in the history of ESPN. I was, of course, crushed (although I believe I got honorable mention). When ESPN bosses are writing me for helping them about somebody they claim has now lapped Tony and myself, I am left to conclude only that if Mr. Simmons does leave ESPN, it may not be entirely of his own choosing.
So the implication by Olbermann is that Simmons' (whose contract is up at the end of the year) "bosses" emailed Olbermann and told him they may not want him to work at ESPN anymore. There's no way to tell if this is true, but considering the rough break Olbermann had when he left ESPN, this would certainly be surprising.
Simmons took the high road on Twitter this time ("This was not why I got into writing,") but ESPN.com Editor-In-Chief Rob King (one of Simmons' "bosses") responded to Mediaite:
To be clear, John Skipper, John Kosner and I are the three people at ESPN responsible for determining how this all plays out. We believe Bill's a uniquely gifted writer and thinker who makes us great and meaningful to sports fans. And we hope to keep him as a central part of what we do for a long time to come.
Olbermann has been off the air on MSNBC for nearly two weeks, so this is only playing off on the web, where it won't get as much attention (according to the MLB blog, he's been caring for his ailing father who "continues to fight his illness"). But how much longer will an political commentary news host take to a baseball blog (run by Major League Baseball) to personally attack an ESPN writer?
Finally, how's this for irony – if Page Six's Neel Shah's Twitter feed is to be believed, Simmons sat two seats away from Olbermann's Nemesis #1 Bill O'Reilly at last night's New York Knicks game. According to Simmons' Twitter, he was at the game. Wonder if O'Reilly had any words of wisdom…
—–
&Raquo; Follow Steve Krakauer on Twitter
Have a tip we should know? tips@mediaite.com