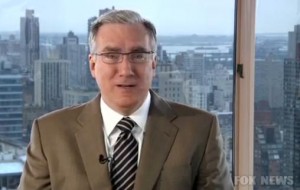 In anticipation of the "late spring" debut of his Current TV show, Keith Olbermann has been keeping limber by posting web-only video versions of his "Worst Persons" segments from time to time. Monday's entry featured an odd bit of commentary in the "silver" spot, as Olbermann seemed to argue that Fox News is the very finest example of opinion journalism.

The web-only versions of his signature Countdown segments are a great way to maintain his fans' interest, but they also sort of remind me of the Scrubs gag where Chuck Woolery tells Carla and Elliot that Love Connection was never canceled, it's just not on TV anymore, and he still occasionally does episodes in his basement with the neighbors.
It's also a bit strange to see him doing "Worst Persons" without Toccata and Fugue playing in the background, as you would think the song would be public domain by now. Maybe he doesn't have any friends who own a Casio.
In Monday's "Worsts," Olbermann awarded the Bronze to ESPN for hiring Bobby Valentine (and for referring to Texas Rangers manager Ron Washington as the "Head Coach"), and the Gold to the woman who sent the racist Obama monkey email (a worthy recipient indeed), but in between was a strange submission for the Silver.
National Review's Jack Fowler earned the honor, not for asking his readers to support the publication in a fundraising solicitation, and not even for including a good-natured shot at Olbermann (Fowler entreated "I no more want to beg from you than I want my daughter to introduce me to her new boyfriend, Keith Olbermann"), but for saying that there's no money in opinion journalism.
"No money in opinion journalism?!?" Olbermann repeated, incredulously, "The head of NRO is either saying that Fox News isn't journalism, or it isn't profitable?"
Having given Fox News as perhaps the most profitable example of opinion journalism, Olbermann then assesses the metric as a barometer of quality. "No money in opinion journalism? Maybe if your opinions blow!"
By that logic, of course, Pat Sajak is the wisest political pundit on TV. His ratings dwarf anything on cable news. Maybe Fowler should give him a call, and Olbermann should be a little nicer. Sajak gave Olbermann his career, and he can take it away, too.
Here's the clip, from FOKNewsChannel:
Have a tip we should know? tips@mediaite.com