Kid Rock, in Response to Complaint He's in Violation of Campaign Finance Law: 'Go F*ck Yourselves'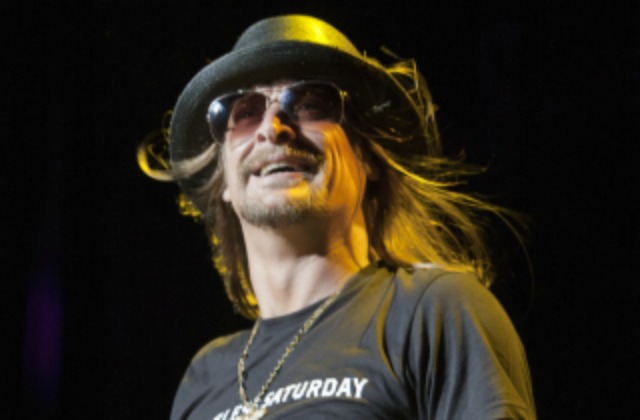 The possibility of a Kid Rock Senate run is still a thing we're talking about, and now one group is claiming is in violation of campaign finance rules.
The group Common Cause filed a complaint with the FEC accusing him of the following:
Common Cause accuses Kid Rock of violating federal election laws by acting as a Senate candidate while failing to register his candidacy, comply with contribution restrictions and publicly disclose contributions to his campaign.

Warner Bros. Records, Kid Rock's label, also is targeted in the complaint; the company is accused of violating federal law and commission regulations by facilitating and acting as a conduit for contributions to the Kid Rock campaign.

"Regardless of whether Kid Rock says he's only exploring candidacy, he's selling 'Kid Rock for Senate' merchandise and is a candidate under the law. This is campaign finance law 101," said Paul S. Ryan, Common Cause's vice president for policy and litigation. "Given the activities we've documented in the complaint, he can't reasonably claim to be merely testing the waters of candidacy and thus exempt from candidate filing requirements. He is a candidate and is obligated to abide by all the rules and make the same disclosures required of everyone else running for federal office."
Kid Rock hasn't officially announced a run yet, but Common Cause points to the KidRockforSenate.com website and the KID ROCK FOR US SENATE merch available for purchase.
Kid Rock put out a statement today responding to the complaint:
I am starting to see reports from the misinformed press and the fake news on how I am in violation of breaking campaign law.

#1 I have still not officially announced my candidacy.

#2 See #1 and go fuck yourselves.

Everyone else, Have a great Labor Day (I will be spending mine WORKING in one of the greatest cities in America – Grand Rapids, Michigan!!)

Rock on.
Kid Rock
[image via screengrab]
— —
Follow Josh Feldman on Twitter: @feldmaniac
Have a tip we should know? tips@mediaite.com
Josh Feldman - Senior Editor