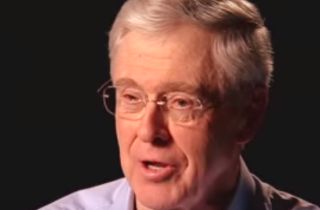 Billionaire Republican donor Charles Koch stated yesterday that he is holding off on backing a candidate throughout the GOP's presidential primary. While many presidential candidates have tried courting Koch and his brother David in order to gain their endorsement and financial backing in the past, he indicated in an interview that he'll be waiting until the general election.
"I have no plans to support anybody in the primary now," Koch said to USA Today.
While Koch revealed a list of GOP candidates in April that he and his brother were considering for support, he said that he does not make his final decision with only what he sees on the campaign trail. Koch, who said he is not focused on politics at the moment, says it has been several months since he talked with any of the candidates, and that when he does decide, what he has been seen thus far will be far from the only factor of his choice.
"If they start saying things we think are beneficial overall and will change the trajectory of the country, then that would be good," Koch said. "But we have to believe also they'll follow through on it, and by and large, candidates don't do that."
The Koch brothers have been among the best known conservative campaign donors in America, and have said that his donor network projections to support the 2016 candidate would amount to around $750 million. Koch previously indicated that Scott Walker might have been his preferred candidate, but with him out of the race, he wouldn't name names because "when we do, it's totally blown out of proportion."
[h/t Huffington Post]
[image via screengrab]
— —
>> Follow Ken Meyer (@KenMeyer91) on Twitter
Have a tip we should know? tips@mediaite.com