Krugman: Obamacare Becoming 'Benghazi-Type Affair' 'Nobody Else Cares About' but GOP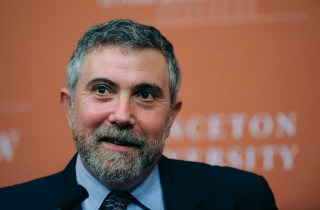 New York Times columnist Paul Krugman informed his audience on Tuesday that the problem-plagued Affordable Care Act has turned a corner. Based on "upbeat" statements from the White House and a shift in the media's coverage of the implementation of the ACA, Krugman sees the law's roll-out evolving from a failure into an unmitigated success.
Krugman added that the problems will continue, but not in their present form. "Obamacare will turn into a Benghazi-type affair where Republicans are screaming about a scandal nobody else cares about," Krugman predicts.

"White House officials are sounding increasingly upbeat," Krugman wrote on Tuesday, linking to a Washington Post summary of Tuesday's update from the Centers for Medicare & Medicaid Services. "They could be deluded or spinning; but after what happened two months ago one suspects that the last thing they want is to inflate expectations unduly."
RELATED: Christopher: CNN Shows an Obamacare Success Story and a 'Failure' Who Will Pay Less for Insurance
He goes on to cite a story broadcast on CNN on Tuesday which focused on winners and losers as a result of the new law. Krugman, like Mediaite's Tommy Christopher, found the report to be lopsidedly focused on people who would be better off under the health care reform law.
"At this rate, the whole horrors-of-Obamacare meme will be gone in weeks, not months," Krugman declares. "But the GOP echo chamber won't be able to let it go."
[Photo via AP]
— —
> >Follow Noah Rothman (@NoahCRothman) on Twitter
Have a tip we should know? tips@mediaite.com