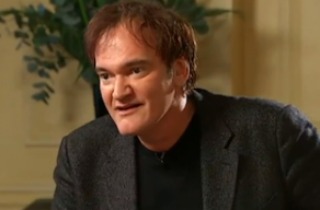 Over the past few days, director Quentin Tarantino has taken flak from various commentators for speaking at a rally against police brutality last weekend. The NYPD has accused Tarantino of being a cop-hater and called for a boycott of his movies, and now, Philadelphia police and the LAPD are following their lead.
Tarantino, who directed Pulp Fiction, Reservoir Dogs, and other acclaimed films, drew the Patrolman's Benevolence Association's ire when he said, "If you believe there's murder going on then you need to rise up and stand up against it… I have to call a murder a murder, and I have to call the murderers the murderers."
PBA President Patrick J. Lynch was the first to speak out against Tarantino, slamming him for participating in the demonstration just days after officer Randolph Holder was killed while pursuing a suspect.
Yesterday, Fox reported that Lynch's sentiment was echoed by Craig Lally, president of the Los Angeles Police Protective League, who issued a statement:
"We fully support constructive dialogue about how police interact with citizens. But there is no place for inflammatory rhetoric that makes police officers even bigger targets than we already are…"We fully support this boycott of Quentin Tarantino films. Hateful rhetoric dehumanizes police and encourages attacks on us."
Today, the day of Holder's funeral, the NYPD and LAPD were joined by John McNesby, president of the Philadelphia Fraternal Order of Police Lodge 5, who offered a statement of his own.
"Tarantino has shown through his actions that he is anti-police," McNesby wrote. "Mr. Tarantino has made a good living through his films, projecting into society at large violence and respect for criminals; he it turns out also hates cops."
[h/t NY Times]
[Image via screengrab]
— —
>> Follow Ken Meyer (@KenMeyer91) on Twitter
Have a tip we should know? tips@mediaite.com