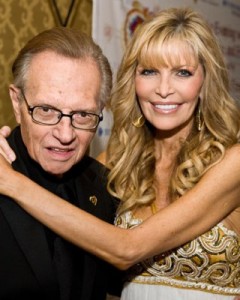 TMZ fans who go to the site for juicy gossip about sexy celebs were probably a bit surprised today to sign on and discover that the entire page had been taken over by the grizzled face of Larry King. The site posted a whopping 11 updates on the story in the last 24 hours including infidelity allegations coming from both sides. The first attack came from King's wife, Shawn Southwick, who claimed that he had been having an affair with her own sister.
For everyone who's been too busy to keep up with latest dirt, here's a quick rundown of how this has all unfolded.  By reading all these posts, you should be able to accurately predict every joke in Jay Leno's monologues for the next week and a half.
King and Southwick are married in 1997.
Two sons are born, one in 1999 and one in 2000.  King has three adult-aged children from previous marriages.
Yesterday morning, King files for divorce, seeking joint custody.
Southwick files for divorce a few hours later and asks for primary custody.
Two hours after the initial report, TMZ posts that Southwick is accusing King of having an affair with her sister.
TMZ talks to the sister, who denies the affair.
Old rumors from a few months ago resurface, linking Southwick to the son's baseball coach.
TMZ digs up an old video with Penate where he admitted that "mistakes were made".
While it's not that shocking to learn that a man who's been married eight times has problems with monogamy, it is interesting to note that the sister, Shannon Engemann, is also incredibly good looking as the modeling portfolio on her website proves.
As for the other affair, cheating with your son's little league coach is the only thing that can be soap opera-ish than having an affair with your sister in law.  These two are like three Lifetime movies wrapped up in one.   Presumably, Southwick and the coach, Hector Penate, bonded over common interests like movies, music, and being born in the same half of the century.
Personally, we find this story much more interesting than the Tiger Woods situation. There's nothing too shocking about finding out that a rich, handsome, young athlete has been bedding a bunch of beautiful women, But when it comes out that a 76-year-old most famous for wearing suspenders may have been sleeping with two beautiful sisters (not at the same time), we have to take notice.
Have a tip we should know? tips@mediaite.com