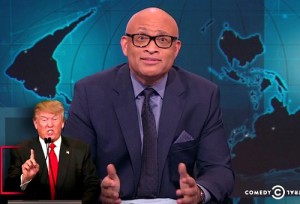 Comedy Central announced that the final episode of its late-night satire show The Nightly Show With Larry Wilmore will air this Thursday.
The network's president Kent Alterman told The New York Times in an interview that the show "hasn't resonated."
"Even though we've given it a year and a half, we've been hoping against hope that it would start to click with our audience, but it hasn't happened and we've haven't seen evidence of it happening," he added.
"I'm really grateful to Comedy Central, [Nightly Show executive producer] Jon Stewart, and our fans to have had this opportunity. But I'm also saddened and surprised we won't be covering this crazy election or 'The Unblackening' as we've coined it," Larry Wilmore said. "And keeping it 100, I guess I hadn't counted on 'The Unblackening' happening to my time slot as well."
The show took the 11:30 p.m. slot previously occupied by The Colbert Report for nearly a decade, and premiered in Jan. 2015. The show @midnight will temporarily fill its spot, though without changing its name, Deadline reported.
Colbert netted an average of 1.7 million viewers in the Report's last year on the air. Nightly Show's debut year saw the audience drop to an average of 922,000 viewers, and this year, it fell further to 776,000 viewers per night, according to Nielsen.
"Two of us riding nowhere
Spending someone's
Hard earned pay
You and me Sunday driving
Not arriving
On our way back home"

The Beatles

— Larry Wilmore (@larrywilmore) August 15, 2016
—
Sam Reisman (@thericeman) is a staff editor at Mediaite.
Have a tip we should know? tips@mediaite.com