Las Vegas Review-Journal Columnist Quits After Being Banned From Covering Billionaire Owner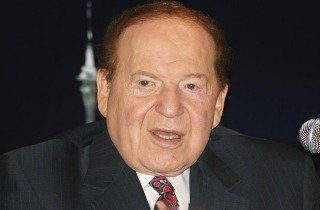 Columnist for the Las Vegas Review-Journal John L. Smith quit Tuesday after being told that he was banned from covering the paper's owner, billionaire casino mogul Sheldon Adelson.
Nevada blogger Jon Ralston first reported on the spate between Smith and his editors Monday. "As long as I'm editor, John won't write about Sheldon Adelson," editor Keith Moyer reportedly told a meeting of the Society of Professional Journalists over the weekend.
Adelson and Smith have a bit of a history. In 2005, Smith's book described a young Adelson's rise in working class Boston by investing in vending machines, and in the same passage explored organized crime's history in that business. Adelson sued for $15 million, and though he eventually dropped the libel case, the legal fees bankrupted Smith.
Smith angrily pointed out to Moyer that he was still allowed to write about another Las Vegas bigwig Steve Wynn despite having also been sued by Wynn. Moyer rectified that by banning Smith from writing about Wynn as well, leading to what Ralston reports was "a heated conversation in the newsroom."
That was apparently the final straw, and Smith announced his resignation via letter the following day.
.@jlnevadasmith just resigned from the Las Vegas Review-Journal. pic.twitter.com/ap0dSoym2y

— Bethany Barnes (@BetsBarnes) April 26, 2016
"Recent events have convinced me that I can no longer remain employed at the Las Vegas Review-Journal, a spirited newspaper that has battled to remain an independent voice of journalism in this community. If a Las Vegas columnist is considered 'conflicted' because he's been unsuccessfully sued by two of the most powerful and outspoken players in the gaming industry, then it's time to move on. If the Strip's thin-skinned casino bosses aren't grist for commentary, who is?" he asks.
[Image via screengrab]
——
>>Follow Alex Griswold (@HashtagGriswold) on Twitter
Have a tip we should know? tips@mediaite.com