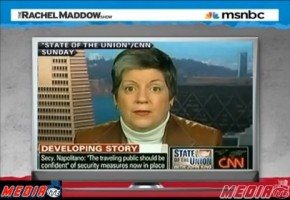 The failed Christmas attack on Flight 253 has inspired both politicians and opinion journalists to quickly attempt to identify who is most to blame. And it seems like the first to have fingers pointed at her in this story is Janet Napolitano, Secretary of Homeland Security. But predictably, one can find whatever analysis conforms with one's own opinion on any of the three major cable news channels. So we've edited together punditry from three commentators representing the Left, the Right and the Center, all in one video.
It doesn't matter that putting a single face on problems that come from complex systemic issues dating back for decades is a gross oversimplification. Cable news shows need a simple narrative for any news story. And what's easier to understand than "it's her fault?"
Some even believe that President Obama got in the act when he mentioned Napolitano in his statement yesterday. However, NBC's Chuck Todd tweeted, "WH aides tell me that the reason the president singled out Napolitano in statement was to make sure folks knew he stood by her." But it wasn't just Todd that saw it that way.
For your viewing convenience, please watch commentary from Rachel Maddow (at the beginning of the clip), Charles Krauthammer (starting at 2:50) and Candy Crowley (starting at 4:18), who, in our esteem, represent left, right, and center. (Transcripts of their comments follow the video.)
Representing the left, Rachel Maddow, MSNBC:
President Obama made a deliberate point of backstopping his Homeland Security Secretary Janet Napolitano. Napolitano has come under partisan attack in recent days for comments she made on Sunday about the response to the attempted terrorist attack.

Napolitano: One thing I'd like to point out is that the system worked. everybody played an important role here. the passengers and crew of the flight took appropriate action. within literally an hour to 90 minutes of the incident occurring, all the flights in the air had been notified to take some special measures in light of what had occurred on the northwest airlines flight. we instituted new measures on the ground and at screening areas both here in the united states and in europe where this flight originated. So the whole process of making sure we respond properly, correctly and effectively went very smoothly.

The Homeland Secretary arguing that the response to what Mr. Abdulmutallab did after he did it was appropriate. Once the guy's attempt failed he was subdued by fellow passengers and then crew. He was brought into custody safely. The plane landed safely. The law enforcement and security response seems to have been appropriate after all of this happened. The assertion by Janet Napolitano that things went well after the incident shouldn't really be all that controversial. unless of course you twist it and take it out of context. Cue the taking it out of context in three, two, one —

Rep Peter King: …said the system worked. The fact is the system did not work. We have to find a bipartisan way to fix it. He made it on the plane with explosives and he detonated the explosives.

Through selective editing, Republicans have tried to turn Janet Napolitano's assessment of the response to the attempted bombing into some sort of excuse for the bombing happening in the first place. President Obama trying to put an end to that political trickery today by putting Napolitano's comments back in context.

President Obama: Secretary Napolitano has said once the suspect attempted t take down flight 253 aft his attempt, it's clear that passengers and crew, our homeland security systems took all appropriate actions.

Maddow: Now, we get to see if the media keeps parroting the republican attack on Janet Napolitano or if they will report her remarks in context. And the fact that republicans are attacking her for saying something she never actually said. the big assist from the talking point stenographers among my friends in the media, conservatives have been racing for the nearest TV camera to try to score political points off this fail attack. here's another example.
Representing the Right: Charles Krauthammer on Fox News, ntroduced by Eric Bolling (starting at 2:50):
Bolling: Charles, you know, let's put ourselves in the place of Al Qaeda leadership. we are looking across the ocean over there and we see Janet Napolitano heading the opposition. Now, i got to think — I'm thinking boy, if that's all they can come up with, should she step down? Should Obama replace Janet Napolitano?

Krauthammer: Well, you know, if you are in Yemeni and looking at her and you are trembling in your boots. She is obviously in this job she was a Decent governor of Arizona. She is way over her head. It is absurd having her running this department. She said on Sunday all day that this — that the system worked. She had to reverse that after a day of ridicule on Monday. But it's obvious what her mind set is. remember, her department issued a report in march in which she warned about the threats of terrorism or man-made disasters and she singled out for worry returning American soldiers who would join right wing extremists here at home and commit acts of terror. Now, that's the mind set of this department, she later had to apologize. But, again, and this also starts at the top with the president. They do not consider the war on terror as a real war. They see it as isolated act of criminality and that's why the policy is flawed. And she who is a believer in it really has to go.
Representing the Center: Candy Crowley, CNN (starting at 4:18):
One of the interesting things I think, is that this incident occurred on Christmas day, on Friday. Sunday Janet Napolitano was on "State of the Union" and I specifically asked her how this man was able to get on an airline when his father had gone to an embassy and suggested that he was an extremist and he was worried about it. She said at the time, well, we don't know what he said. we're looking into that. We also know that it wasn't until today that the President came out and began to talk about that, yet all the while I'm assuming since Christmas day there was this report at Langley.

I think there's a suggestion there that perhaps, neither the Homeland Security Secretary nor the President knew about this until sometime in the last 24 hours which i think points out another problem. Now, it may be that they were trying to connect the dots. They had the report immediately and were trying to figure out where it had gone but it seems to me that from Friday to Tuesday is a pretty long time for the President to get this kind of information and may have led to what he — his anger.

But, It also may have just been the fact that here we are again eight years later, as you suggest…created this Homeland security group so that they could bring all of these dots together and we could stop this sort of thing and it doesn't appear, at least as far as we know, that this happened. one of the dots was a big one. It was Britain revoking or refusing this man's visa. Somehow that information also didn't seem to go anywhere from our strongest ally.
Have a tip we should know? tips@mediaite.com