Lena Dunham Compared Herself to a 'Sexual Predator': Why Does Twitter Think She is a Role Model For Women?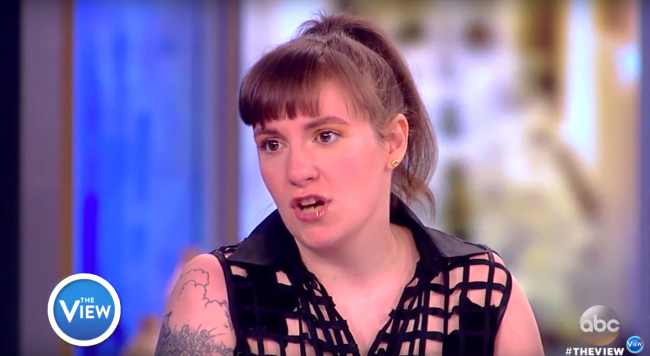 Twitter took some time yesterday to honor International Women's Day with their #SheInspiresMe campaign. In a series of tweets, the company honored such female luminaries as Nobel Laureate Malala Yousafzai, Michelle Obama, Katherine Johnson, and Lady Gaga.
Then there was Lena Dunham.
"Lena Dunham has taught a generation of women how to embrace who they are," the website crowed.
Unapologetically herself, @lenadunham has taught a generation of women how to embrace who they are. #SheInspiresMe pic.twitter.com/wqZe18rtFi

— Twitter (@Twitter) March 8, 2017
Dunham's notable career achievements include creating and starring in the HBO series Girls and picking up numerous Emmy nominations and a Golden Globe award for it as well. In 2015 she founded the feminist publication Lenny Letter, which was influential enough to earn a high profile interview with Hillary Clinton that same year.
Unfortunately, Lena Dunham has also compared herself to a sexual predator, a term she used to describe her past behavior with her younger sister in her 2014 memoir "Not That Kind of Girl."
As the National Review pointed out:
Lena Dunham's sexual abuse, specifically, of her younger sister, Grace, the sort of thing that gets children taken away from non-millionaire families without Andover pedigrees and Manhattanite social connections. Dunham writes of casually masturbating while in bed next to her younger sister, of bribing her with "three pieces of candy if I could kiss her on the lips for five seconds . . . anything a sexual predator might do to woo a small suburban girl I was trying." At one point, when her sister is a toddler, Lena Dunham pries open her vagina — "my curiosity got the best of me," she offers, as though that were an explanation. "This was within the spectrum of things I did."
For more context:
Here's the Lena Dunham "sexual predator" joke, in case yall thought it was made up. pic.twitter.com/XmMUQD1OuK

— Dianna E Anderson (@diannaeanderson) November 1, 2014
As many subsequently pointed out, this doesn't necessarily make Dunham the predator she describes herself as, but it is still pretty bizarre stuff. Let's just step back a minute: Malala Yousafzai was shot in the head by the Taliban for trying to go to school, Lena Dunham created a television show and thinks racist sushi is an issue you should care about. It's an insult to Yousafzai's extraordinary struggle, and all women looking for inspiration, to hold Dunham up as a comparable role model.

[image via screengrab]
This is an opinion piece. The views expressed in this article are those of just the author.