Leonardo DiCaprio to U.N.: Solve Climate Change or 'Be Villified' by History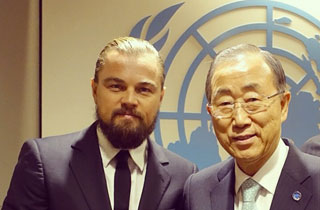 In a speech to the United Nations, actor Leonardo DiCaprio, recently appointed as a MESSENGER OF PEACE, warned the lawmakers that climate change was the biggest threat to civilization, and that they needed to act immediately.
"As an actor I pretend for a living," he admitted. "I play fictitious characters often solving fictitious problems. I believe humankind has looked at climate change in that same way: as if it were a fiction, happening to someone else's planet, as if pretending that climate change wasn't real would somehow make it go away."
DiCaprio, who marched in the massive People's Climate March on Sunday in New York, chastised the UN for not taking "large-scale" policy action by regulating industries. "This disaster has grown BEYOND the choices that individuals make," he said, adding:
We only get one planet. Humankind must become accountable on a massive scale for the wanton destruction of our collective home. Protecting our future on this planet depends on the conscious evolution of our species.

This is the most urgent of times, and the most urgent of messages.

Honoured delegates, leaders of the world, I pretend for a living. But you do not. The people made their voices heard on Sunday around the world and the momentum will not stop. And now it's YOUR turn, the time to answer the greatest challenge of our existence on this planet … is now.
He also chose that moment, conveniently, to join Instagram:
[h/t The Guardian]
[Image via Leonardo DiCaprio/Instagram]
—
>> Follow Tina Nguyen (@Tina_Nguyen) on Twitter
Have a tip we should know? tips@mediaite.com