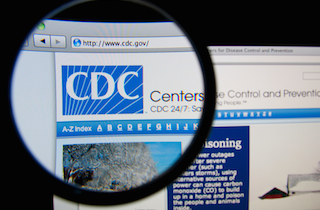 This was only a matter of time: conservative bloggers have noticed that Kaci Hickox, a health care worker quarantined in New Jersey after returning from treating ebola patients in west Africa, is a registered Democrat, allowing her objections to her quarantine conditions and the underlying policies to be recast as a partisan complaint.
Like most awful things these days this started with Charles Johnson, the conservative blogger who recently cried voter fraud in the Mississippi GOP primary and tried to out Michael Brown as a violent felon, neither with much success.
Johnson has twice had his Twitter account suspended recently for posting personal information about U.S. ebola patients, including their addresses. This time Johnson around published a post characterizing Hickox as "an employee for the Centers for Disease Control and a registered Democrat with a history of left-wing advocacy," and accusing the Dallas Morning News of failing to disclose her CDC ties when it published her op-ed deploring New Jersey's quarantine protocols.
As Little Green Footballs blogger Charles Johnson* pointed out, the op-ed stated right at the top that Hickox worked for the CDC (and also asked what was so wrong with working for the CDC anyway). Meanwhile, Hickox's piece called the mandatory quarantine at odds with the medical science consensus, which, whether you agree with the consensus or not, is indisputable at this point.
Thus far Johnson's non-scoop is limited to the fringes of the conservative blogosphere, where it's being taken as an "of course" revelation that explains everything:
Reportedly an O voter "we have to be very careful about letting politicians make medical and public health decisions" http://t.co/lMHRX8akBf

— Dana Loesch (@DLoesch) October 27, 2014
Meanwhile, it's underwriting a distinctly misogynistic strain of criticism that's emerged on Twitter since Hickox first spoke to CNN yesterday:
@Roccodumpster She's a selfish Ginger cunt. Apparently she's a left-wing liberal: http://t.co/6chCAWyRHm

— Kurt Steinberg (@Kurt_Steinberg) October 26, 2014
For more on the toxic logic beneath this entire swamp, see Adam Weinstein.
* Yes, they're both named Charles Johnson.
[Image via Gil C / Shutterstock.com]
——
>> Follow Evan McMurry (@evanmcmurry) on Twitter
Have a tip we should know? tips@mediaite.com