'Let These Kids Play': Twitter Not Thrilled With Officiating in National Title Game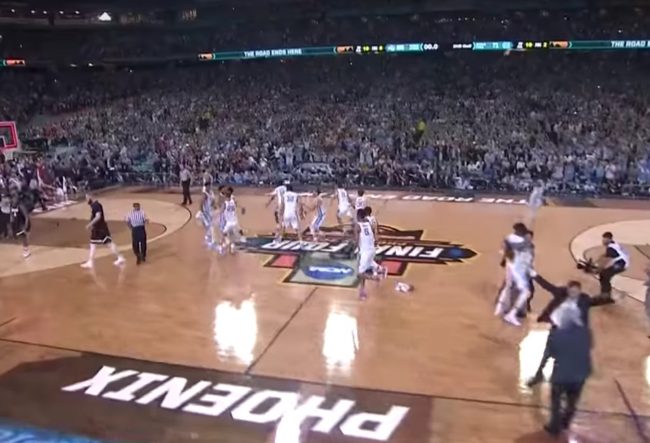 A year after losing the National Championship game on a heartbreaking buzzer beater, North Carolina defeated Gonzaga 71-65 to win the program's sixth title.
But the game was, frankly, a mess. And that was largely due to the officiating. The refs called the contest extremely tight, putting multiple players for both teams in foul trouble and never allowing them to get into the flow of the game. They also went to the replay monitor numerous times on what should've been routine calls. And then, remarkably, given their prudence throughout the night, they blew a crucial call late which helped seal the deal for the Tar Heels.
Basketball players, fans, and pundits were less than thrilled. They took to Twitter with their grievances.
Let these kids play. Put the whistles away.

— DWade (@DwyaneWade) April 4, 2017
Rumor has it the refs are still calling fouls as they hand out the trophies. #nationalchampionship

— Sean Mulkerron (@SeanMulkerron) April 4, 2017
We basically watching the refs make all the plays

— Brandon Jennings (@brandonjennings) April 4, 2017
Sloppy game…refs too.. One of the worst officiated games of the season. At one point more fouls than baskets… #nationalchampionship

— Lisa Kerney (@LisaKerneyESPN) April 4, 2017
The refs would call a foul on excessive breathing

— Brad Gilbert (@bgtennisnation) April 4, 2017
Hopefully the person that emailed LPGA about Lexi Thompson, will email the NCAA to tell them these refs stink.#nationalchampionship

— Robert Flores (@RoFlo) April 4, 2017
Refs please stay out of the game…you're ruining it for both teams #NCAAChampionship

— James Worthy (@JamesWorthy42) April 4, 2017
Refs please let the kids decide the game. In the bonus with more than 10 mins left in the game. Come on!!#nationalchampionship

— Larry Fitzgerald (@LarryFitzgerald) April 4, 2017
Kind of scary that the only people on the floor getting paid are the refs.

— Joe Posnanski (@JPosnanski) April 4, 2017
If you waited all college basketball season to watch refs and free-throw shooting decide the NCAA Tournament, it's your lucky day!

— Joe Giglio (@JoeGiglioSports) April 4, 2017
Once again… the refs are the stars of the game. Thanks #NCAATournament

— Jay Williams (@RealJayWilliams) April 4, 2017
Step 1: Drink every time the refs call a foul in the #nationalchampionship game.

Step 2: Die.

— Kyle Flottman (@kflottman) April 4, 2017
With 50 seconds left to play and Gonzaga down one, a scramble for the loose ball ensued. The refs called a tie-up, and since North Carolina had the possession arrow, they kept the ball.
But as you can see in the photo below, North Carolina's Kennedy Meeks appeared to have a hand out of bounds during the struggle for possession, which means the ball should've gone to the Zags.
Hand out, perfectly legal. pic.twitter.com/yVLXDByImK

— Matt Smith (@SamENole) April 4, 2017
HOW WAS THIS NOT REVIEWED https://t.co/HvKtPY3lCd

— Luke Winn (@lukewinn) April 4, 2017
it was a lightly officiated game, refs wanted to let things play out https://t.co/ozYSF1T0ei

— Mina Kimes (@minakimes) April 4, 2017
Can I call into the NCAA now to have them retroactively go back and give that ball to Zags? Meeks was out of bounds on previous possession.

— Chantel Jennings (@ChantelJennings) April 4, 2017
So we're just going to ignore Meeks being out of bounds?

cool.

— Mid-Major Madness (@mid_madness) April 4, 2017
Hold it….a viewer has called in with video evidence of Meeks' hand out of bounds. The LPGA is taking away North Carolina's trophy.

— Dirk Chatelain (@dirkchatelain) April 4, 2017
[image via screengrab]
——
Follow Joe DePaolo (@joe_depaolo) on Twitter
Have a tip we should know? tips@mediaite.com
Joe DePaolo - Senior Editor