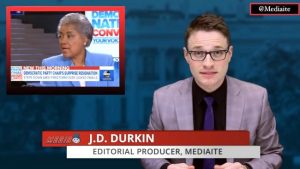 When news first broke last month via WikiLeaks and John Podesta's poorly-chosen email password that Hillary Clinton allegedly had debate questions leaked to her in advance, CNN parted ways with the implicated culprit: Donna Brazile, interim DNC chairperson and network contributor.
At the time, the network said, "CNN never gave Brazile access to any questions… We are completely uncomfortable with what we have learned about her interactions with the Clinton campaign while she was a CNN contributor." They promptly parted ways; Brazile, at the time, was cordial in her public response, thanking the network and wishing her former colleagues the best.
But that was before Hillary Clinton — the so-called "most qualified candidate in presidential history" — and the Democrats got shellacked last week in unprecedented fashion. And now? Brazile seems a little more guilty and a little less gracious. She told a school in Virginia this week about the subject, "CNN never gave me a question. I wish CNN had given me some other things, like the ability to defend myself rather than ripping me a new one."
Now, Brazile has had a long, distinguished career as a public servant in my opinion. She worked on every presidential campaign for the party from '76 until 2000, and she was the first African American woman to run a presidential campaign when she served Al Gore's effort. For her contributions to the electoral campaign landscape, she is deserving of our respect. But that doesn't change that fact that as liberals continue to pick up the pieces from a disastrous loss, Brazile is deserving of a sharp eye of criticism from her base; by all accounts, she helped the party frontrunner cheat her way to the nomination (she has never, for the record, denied the WikiLeaks emails were hers) and it's time that Democratic voters demand accountability.
Check out my newest segment on Donna Brazile and the state of the DNC above from Mediaite Originals.
—
J.D. Durkin (@jiveDurkey) is an editorial producer and columnist at Mediaite.
This is an opinion piece. The views expressed in this article are those of just the author.