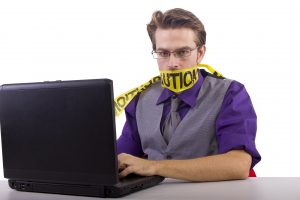 Charles Harder, the lawyer successfully argued for the judgment against Gawker that buried the company, indicated that journalists should be wary of upsetting powerful people with deep pockets.
In the unflinching words of Jason Zengerle, writing in GQ, "Charles Harder scares me shitless and I don't want to get on his bad side."
The attorney, he adds, has "established himself as perhaps the greatest threat in the United States to journalists, the First Amendment, and the very notion of a free press."
"The fact that Gawker is no longer engaged in massive character assassination of people and invading their privacy means it's a better world," Harder said.
Zengerele writes:
It's also a business opportunity, and suddenly, other rich people with axes to grind against the media are turning to Harder to do for them what he did for Hogan and Thiel. In September he filed a $150 million defamation suit on behalf of Melania Trump against the Daily Mail and a Maryland blogger for reporting a rumor that she'd once worked as an escort. Deposed Fox News head Roger Ailes has reportedly retained Harder to represent him in a potential libel suit against New York magazine and the writer Gabriel Sherman. (Full disclosure: I write for New York.) He's currently suing two financial bloggers on behalf of the investor Barry Honig.
Consciously or not, Harder echoes the sentiment of Peter Thiel, the Silicon Valley mogul and Trump ally who bankrolled the lawsuit against Gawker. Thiel defended his decision to underwrite Gawker's destruction at a recent conference addressing the National Press Club. He said that Gawker was a "singularly sociopathic bully," and that its writers were not journalists.
You can read the complete profile of Harder at GQ here.
[image: Rommel Canlas via shutterstock]
Have a tip we should know? tips@mediaite.com