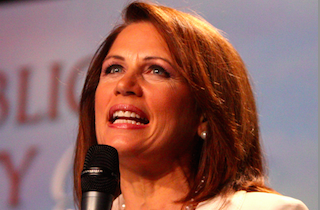 Did Rep. Michele Bachmann (R-MN) really call for the creation of "Americanization facilities" in which undocumented immigrant children would work off their debt to society through hard labor? No, that was the work of a parody website, but apparently it was believable enough that several liberal websites picked up her supposed quotes as fact.
The fake story originated on the misleading parody site National Report before being reposted word-for-word on kctv7.com, which looks like a local Kansas news website but is actually just a parody website that completely eschews the typical disclaimers that would tip people off. The real KCTV website exists at kctv5.com.
"Michele Bachmann Suggests Labor Camps for Immigrant Children," the post's headline, published on July 21, read. It included extended quotes like the one below supposedly uttered during an interview with conservative radio host Jason Lewis.
"I'm calling on all of us, Obama and Congress and everyone, to chip in and build special new facilities… 'Americanization' facilities, if you will. And we'd send these kids to these facilities, in Arizona and Texas and wherever else. And we'd get private sector business leaders to locate to those facilities and give these children low-risk jobs to do. And they'd learn about the American way of life, earn their keep, and everyone wins in the end."
Considering some of the other things Bachmann has told conservative radio hosts over the years, this latest proposal did not seem so far-fetched. DailyKos wrote up the story last Thursday, followed by Crooks and Liars and ThinkProgress on Sunday.
While the latter two have issued corrections, with ThinkProgress striking out its entire story and apologizing for the error, the story remains uncorrected on DailyKos five days later.
[h/t Raw Story]
[Photo via Wikimedia Commons/Gage Skidmore]
— —
>> Follow Matt Wilstein (@TheMattWilstein) on Twitter
Have a tip we should know? tips@mediaite.com