Liberals Will Cringe, But Obama Must Offer GOP a Face-Saving Way Out of Crisis They Created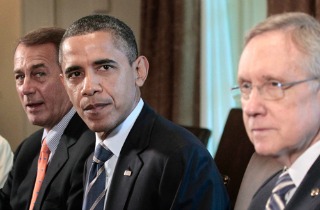 Democrats will hate it. Conservative Republicans will think it a false choice. President Barack Obama will see it as squandering his strategic advantage. It is the solution that no one in Washington wants, but it is the solution that the American public demands. With the government in shutdown mode, and neither side seeing any benefit in negotiating a way out of this crisis at the moment, America is careening towards a real disaster of a magnitude that is difficult to overstate. One side must blink. Much to his and his supporter's irritation, it falls to Obama to offer, or at least accept, a face-saving way in which the Republicans can deescalate the crisis they ignited.

Tempers are running hot at the moment, and most will dismiss this outright. Democrats want to see Republicans punished. Republicans are prepared to, and have, sacrificed popular opinion for what they see as adherence to principle. No one is budging. With these conditions in mind, an analogy might help make those who are contemptuous of this suggested method for resolving the government shutdown crisis more receptive. Students of crisis management will point to the Cuban Missile Crisis as the most universally well-known catastrophe averted through the magnanimity of the party with the stronger hand.
Then, as now, a weak Soviet leader (Nikita Khrushchev would be deposed less than two years later), spurred on by the hardliners within the Kremlin, ignited a crisis by sending nuclear weapons and delivery vehicles to America's doorstep. The Soviets were shocked by Washington's response – it was resolute, unwavering, and extraordinarily threatening. Almost immediately, the Kremlin was looking for a way out of the crisis they had initiated.
But there was no easy way out. More than once over the course of that crisis, President John Kennedy's administration was confronted with the prospect of having to negotiate with a party in the Soviet Union that was far less amenable to a resolution than Khrushchev. In order to deescalate the affair, Khrushchev needed a concession from Washington. Furthermore, it was in Washington's best interest to offer one – albeit one that must be kept secret for fear of the domestic ramifications – to ensure that even more hardline leaders in the U.S.S.R did not take advantage of an unmitigated Khrushchev defeat and seize power.
The Kennedy White House offered, on the condition that it be kept confidential, to remove nearly obsolete Jupiter missiles from Turkey if the Soviets did the same for their nuclear weapons in Cuba. Soviet leaders were satisfied that they had extracted some concession from Washington, and the White House averted a crisis without appearing to have capitulated to threats.
Had the Kennedy administration not offered a concession and relied on the objective fact that they could simply have resolved the crisis militarily to force the Soviets to back down, Moscow's response would have almost certainly been to escalate the crisis. There is no telling where a reciprocating series of escalations would have ended.
The analogy is imperfect, but Washington finds itself in a similar conundrum today. President Obama and his allies have the upper hand as Republicans flail in an effort to navigate a crisis of their own making. But while America's representatives can look to history to see how to best resolve the average government shutdown, there is something far more serious and unprecedented about this crisis.
Washington does not appear to know how to deescalate and end this shut down. In fact, most parties involved see more incentive in making sure it continues. Democrats believe the Republicans will suffer in the polls. Conservative tea party members of Congress see themselves as sidelining the party's moderates. The president is satisfying his base supporters' demand that he refuse to back down.
No one is negotiating as America careens closer to October 18, when the nation's debt ceiling will need to be raised. If it is not, the nation's credit collapses, the dollar as a reserve currency loses quite a bit of value, and the fragile economic recovery will likely dissolve. With the nation's elected representatives recalcitrant, each side waiting for the other to blink, cooler heads may not prevail in time to avert this fiscal disaster. To put it mildly, that would be the worst case scenario.
The president knows this. He has every incentive not to let the crisis spin out of control and threaten the debt ceiling. His legacy, not those of weak House and Senate leaders who will be forgotten by history, is on the line. Obama must contemplate – and move his supporters in Congress to consider – a face-saving concession for the GOP. More Republicans are belatedly coming to see the virtue of passing a clean continuing resolution to fund the government, but the party has already committed to sacrificing public support in order to extract concessions from the Democrats. Much as many would like, Republicans cannot go back in time and avert a shutdown. The consequences of the shutdown are factored in to their calculations.
Something as mutually agreeable as the elimination of the medical device tax within the Affordable Care Act would suffice. Hardline conservatives would be satisfied and Democrats can still declare victory because they have successfully fended off an attack on the ACA. Without a face-saving way out of this crisis, the best Republican option is to escalate the crisis until they secure one. If no one blinks, the long-term consequences for the country will be devastating.
[Photo via AP]
— —
> >Follow Noah Rothman (@NoahCRothman) on Twitter
Have a tip we should know? tips@mediaite.com