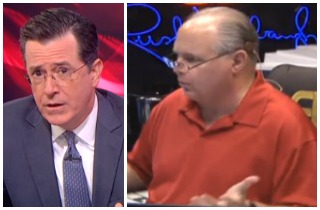 Rush Limbaugh picked up on an audience reaction to a bit Stephen Colbert did last night and told his radio audience today it sounds like even Colbert's audience agrees with him about the GOP's main goal being to stop President Obama for the next two years.
Limbaugh said, "That got practically a standing ovation on Comedy Central last night, totally shocking the host, and once again, demonstrating the whole world agrees with me on this." He touted this as validation of his argument, and again wanted to emphasize "how shocked they were to hear massive rounds of applause in agreement with this on a liberal comedy network called Comedy Central."
He told listeners to "take a little pleasure from it."
However, it's probably not the case that Limbaugh's idea was being welcomed by Colbert's audience. In the segment in question, Colbert was mocking Limbaugh and a National Review writer for questioning . And the applause line that Limbaugh singles out came right after some laughter at a soundbite of Limbaugh's and Colbert mockingly proclaiming, "Thank you, Republicans were not elected to govern."
And when Colbert quipped, "Huge Rush Limbaugh fans tonight," there were some cheers and "whoo!"s (though let's face it, it was likely part of the mocking "Go Rush!" sentiment).
You can listen to Limbaugh's audio, via The Rush Limbaugh Show, then watch the Colbert video, via Comedy Central, and decide for yourself whether Limbaugh has any standing to make that claim:
[image via screengrab]
— —
Follow Josh Feldman on Twitter: @feldmaniac
Have a tip we should know? tips@mediaite.com
Josh Feldman - Senior Editor