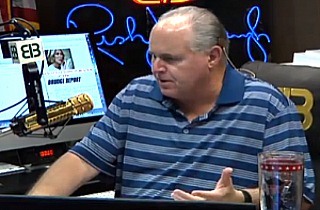 Conservative radio host Rush Limbaugh said on his program on Wednesday that he believes the Republican Party will operate in an entirely different fashion if the next Democratic presidential nominee is not an African-American. He said that the Republican Party is "frozen" in fear of being accused of being racist and is not effectively opposing President Barack Obama as a result of that fear.

"By every measure available to us, polling data, everything but election returns," Limbaugh began, "the American people oppose what is happening."
RELATED: Rush Limbaugh: What if Al Qaeda is 'Framing' Bashar al-Assad in Syria?
"The party that's supposed to represent us is afraid to," he continued. "They are more inclined to either be quiet or to give the appearance of, not opposing Obama — because they're scared to do it, for some reason. And I think one of the primary reasons or explanations for that is race. I just think it's paralyzing."
"I think the accusation of racism and serious criticism will be rejected because it's said to be racist," Limbaugh continued. "I really do think it has them befuddled."
"We haven't lost the people yet," he added.
"If the next Democrat presidential candidate is not African-American, it's going to change everything about the way the Republican Party operates," Limbaugh said. "I think the Republican Party is frozen."
He said that, once Democrats cannot accuse the president's opponents of being racist, it will free the GOP to be more strident in their opposition to Democratic policies.
Listen to the clip below via The Rush Limbaugh Show:
h/t Daily Rushbo
— —
> >Follow Noah Rothman (@NoahCRothman) on Twitter
Have a tip we should know? [email protected]