Limbaugh Has a Theory Why Obama Didn't Make 'Direct Appeal' to End Ferguson Riots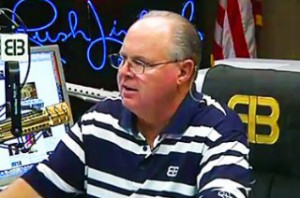 Last night there was no rioting in Ferguson and no one was arrested. But that hasn't keep some from staying on the violence earlier this week, and Rush Limbaugh took on the issue today. A caller asked why local police aren't getting any credit for their law-and-order approach (that made many rather concerned about the militarization of local police forces).
Limbaugh noted that the two people who will get the most credit are Governor Jay Nixon and President Obama. And, in fact, the caller wondered why Obama didn't call for protestors to stop the rioting and looting (that did actually stop last night regardless of what Obama said, but whatever). He said, "As a minority man, he should be able to have more influence with the population there."
Limbaugh surmised, "He might not have made a direct appeal because he wouldn't want to run the risk that they won't listen to him and that blows up everything."
In other words, Obama didn't say anything about the rioting and looting because he didn't want to risk people doing so anyway, thereby looking like a weak president whom the black community doesn't listen to.
And while the president did not technically say outright "Hey, you should stop rioting and looting" in his address yesterday, he did actually say, "There is never an excuse for violence against police or for those who would use this tragedy as a cover for vandalism or looting."
Listen to the audio below, via The Rush Limbaugh Show:
You can also watch Obama's statement on Ferguson here (with the aforementioned quote at the 2:13 mark), via Fox News:
[image via screengrab]
— —
Follow Josh Feldman on Twitter: @feldmaniac
Have a tip we should know? tips@mediaite.com
Josh Feldman - Senior Editor