Limbaugh: Hawaii Governor Is Still Alive Because WH Is Also Involved In Birther Case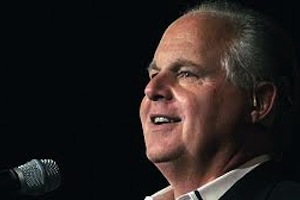 Ah the birther situation. It's the kind of thing that should have vanished years ago but keeps popping up anyway, like the political equivalent of Ugg Boots. Recently, the issue gained headlines again thanks to Hawaii Governor Neil Abercrombie's one-man crusade to end the controversy. But Rush Limbaugh doesn't think this solo quest is actually so solo. He thinks the Obama administration gave Abercrombie the go ahead because, if they didn't, he'd be dead. Duh.
While discussing a recent interview Abercrombie gave the Honolulu Star Adviser, Limbaugh claimed he didn't think it was possible that Abercrombie wasn't in contact with the White House.
"I would think that if Abercrombie's going to do this, he's not the Lone Ranger. He's gotta be calling the White House, 'OK, look, we've got a potential problem here. I want to find this thing, and I want to make it public.' Now, if that happened, someone at the regime did not say, 'No, don't do it,' because Abercrombie is still alive. If they had said don't do it, and Abercrombie is still doing it… Well, I don't want to even think of the consequences of that.'"
Ok, makes sense. Abercrombie is clearly working with the White House because he isn't lying next to Jimmy Hoffa somewhere. Sure. But why would they be working together and not producing the actual Birth Certificate yet? Well, Limbaugh has that figured out too. You see, this is all a big "head fake" to make birthers look crazy and, in a few years, they're going to find the thing in a "garage sale in Kahala."
So, basically, President Obama's just messing with us. Of course.
Seriously though, can you imagine how many time's Obama's wanted to just prank people like that? Like just walk around carrying a Koran just to freak people out? Man, he would have so much fun!
Check out the audio from The Rush Limbaugh Show below:
Have a tip we should know? tips@mediaite.com