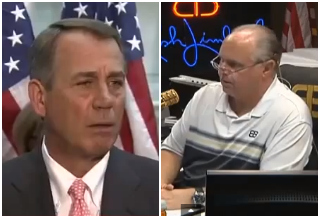 Rush Limbaugh is trying his best to fight "pessimism" today after watching House Speaker John Boehner (R-OH) announce a short-term debt deal that would help the U.S. avoid default at least until late November. "I fear we are getting ready to snatch defeat from the jaws of victory," Limbaugh told his listeners.
Limbaugh explained that the House Republican leaders are pushing a six-week increase in the debt limit "without any conservative strings attached" in order to "supposedly calm the jittery financial markets." He accused Democrats of "throwing every scare tactic card out there" and hit Republicans for "acting as predictable."
The anger got ratcheted up a notch when Limbaugh started going after Fox and the rest of the conservative commentariate" for "claiming that the Mike Lee and Ted Cruz defund strategy was delusional." Mocking the point of view heard on Fox from pundits like Brit Hume and Charles Krauthammer, Limbaugh said, "It was pointless and it was dangerous, risky, and unnecessary. It was rank amateurish. It was not mature."
"So the point is that the establishment is still hell-bent on demolishing and discrediting the Tea Party and the Ted Cruz, Mike Lee, and whoever else was involved coalition," Limbaugh continued, crediting those senators for finally "exposing" President Obama and causing his approval numbers to drop.
"There's still division," he said of the Republican Party. "They're still playing games over who gets credit for doing what, and, 'We can't let the Tea Party guys have any credit, and we certainly can't let the freshmen have any credit.' They continue to portray these people as reckless amateurs who almost brought down the government, but were saved by the mature establishment types who know what they are doing."
Watch video below, via Rush Limbaugh:
[photo via screengrab]
— —
>> Follow Matt Wilstein (@TheMattWilstein) on Twitter
Have a tip we should know? tips@mediaite.com