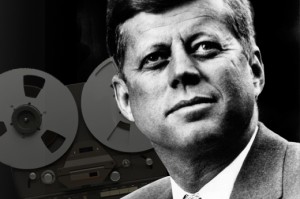 The assassination of President Kennedy was one of the most traumatic moments in American history. Since then, the circumstances of his death have been considered highly controversial and largely mysterious. A recent discovery of lost audio recordings from Air Force One have resurfaced, and are being inspected for possible details regarding this tragic event.
Nathan Raab, VP of The Raab Collection, stumbled across the tapes at the bottom of a box owned by Ted Clifton. Clifton served as a military aide to both Kennedy and Lyndon Johnson, and he was in charge of military actions immediately after Kennedy's death. The tapes were donated by the Raab Collection to the National Archives, where they were made public. The recordings captured two hours and twenty-two minutes of conversation between air traffickers and members aboard multiple aircrafts in the Presidential Fleet. One tape came from Air Force One on its return flight from Dallas, Texas, to Andrews Air Force Base in Maryland. Passengers on this flight included Jacqueline Kennedy and acting President Johnson.
During the flight, Johnson called Rose Kennedy, the mother of the fallen President, to send his condolences: "I wish to God there was something that I could do and I wanted to tell you that we were grieving with you."
Also found in the recordings were orders to locate Curtis LeMay, the Air Force Chief of Staff. General LeMay was called into suspicion because of the high tension between himself and President Kennedy after disagreements regarding the Cuban Missile Crisis.
Similar audio recordings from the flight were released in 1971 during Nixon's administration; however the earlier recording was edited and is 40 minutes shorter. The editor and their intentions remain unknown, but the edited version does not mention LeMay. LeMay's absence in the recordings has sparked interest with investigators.
Even with the release of the extended version, a significant duration of the roughly 4 hour flight is undocumented. The lack of a full disclosure only perpetuates the mystery and controversy of the incident.
You can download and listen the recordings directly from the National Archives here. Just be ready to dedicate a solid two hours to listening to the fascinating material.
Have a tip we should know? tips@mediaite.com