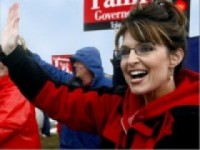 In the age of Twitter there is no such thing as a (Federal holiday) Friday afternoon news dump! Shortly after Sarah Palin announced from Wasilla, Alaska that she would be resigning as Governor effective July 25 our Twitter feed blew up with reactions from the media world. Here's a quick look at some of the responses.
Mediaite: Cameron sums all up: "To some, this is the end of her political career. To others, it's the beginning of her pres. campaign" SK
Lloyd Grove: Is this a great country or what? A live Sarah Palin steals the spotlight from a dead Michael Jackson!

Brian Stelter: Landed; surprised passengers with the NYT news alert about Palin. Reading reax via @mediaite, @joenbc, @mikeallen, @dceiver, etc
Jay Rosen: No politician in our time has lived her political life at a wider variance from verifiable fact than Palin. That is why rage surrounds her.
Mediaite: Townhall blogger, #Palin supporter, on MSNBC: "This is tantamount to a star quarterback who doesn't mature..Not a happy day" SK

Ari Melber: BECAUSE NO ONE CAN WAIT FOR BLOGS WHEN IT COMES TO PALIN. RT @markosm: Seriously, Twitter was made for days like these. Right #tcot?

Mark Knoller: Palin said her kids influenced by "seeing their baby brother Trig mocked and ridiculed by some pretty mean-spirited adults recently."
Rachel Sklar: Wow. Sarah Palin. Was it something that Todd Purdum uncovered but didn't publish? Was it those really tight spandex pants in Runner's World?

Caroline McCarthy: I'm going to imagine that Palin and Sanford hooked up at a Republican governors' convention in the gubernatorial equivalent of a SXSW tryst.
Andrew Sullivan: "In some ways, this is a moment to reflect on McCain, and his irresponsibility, not Palin and her drama. " — Andrew Sullivan on Palin-fail
Jason Linkins: I can tell you from experience the only person who could break the internet like Michael Jackson is Sarah Palin.
Mike Allen: Sarah Palin spokewoman Meg Stapleton on Fox: "She saw their block and went around it" — say what? #Palin

Andy Borowitz: Comedians Call Palin Resignation 'Devastating Blow' http://tinyurl.com/neuv6m
Scott Simon: RT from the hilarious badbana on Gov Palin's resignation: "Once you get a little taste of Iowa and Vermont, you can't go back to Alaska."
The Cajun Boy: Been told by Alaskan friends that there have been rumors swirling for weeks that the IRS has something big on the Palins.

Steve Krakauer: RT @mediaite: #Palin sksprsn on FNC: Letterman attack "pushed Willow to vote yes" for Palin to step down. And NOW he's part of the story.
Leslie Sanchez: Too premature 2 predict outcome, but strong pts here RT @conservatweet [Hot Air] Is Palin's nat politcal career over? http://bit.ly/1ayMen
Major Garrett: Obama WH, w/staff who pilloried every Palin campaign gaffe (real & perceived) mum today. Defers to DNC's resignation label: "bizzare."
Brian Stelter: Reading Palin's statement. http://bit.ly/73PBj Twitter search suggests "pass the ball" could be the new "hiking the Appalachian trail."
Related: Sarah Palin, You Owe The Media An Apology
Have a tip we should know? tips@mediaite.com