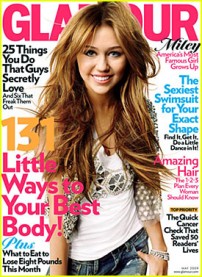 Here is a full list of results from last night's National Magazine Awards and just below you can find a blow-by blow Tweet account (ie. Martha Stewart's very high shoes, Brooke Shields very green dress, David Remnick's very pink tie) from last night's big event at Alice Tully Hall at the Lincoln Center (more than a few people, by the way, aimed for the Time Warner center by mistake, where it has been held in recent years past).
A couple of highlights. After last year's "annus horribilis" (more than one editor congratulated the room on surviving 2009) last night felt like a return to better and more familiar times. Also very familiar faces. New York, an Ellie favorite, walked away with the most awards of the evening (four). The New Yorker snagged three, losing out to Men's Health in the General Excellence category, much to editor Dave Zinzenko's obvious (and funny) enjoyment. The big winner of the night, however, was Glamour, which snapped up the brand new Magazine of the Year that awards both print and digital efforts. In her acceptance speech editor Cindi Leive noted how nice it was to seen women's magazines recognized in the top categories.
The winners of the National Magazine Awards 2010 are:
General Excellence, Print
Recognizes overall editorial achievement at six circulation levels.
*
Under 100,000 Circulation
San Francisco
Bruce Kelley, Editor-in-Chief
For April, August, December Issues
*
100,000 to 250,000 Circulation
Mother Jones
Monika Bauerlein and Clara Jeffery, Editors
For July/August, September/October, November/December Issues
*
250,000 to 500,000 Circulation
New York
Adam Moss, Editor-in-Chief
For April 20, October 5, October 26 Issues
*
500,000 to 1 Million Circulation
GQ
Jim Nelson, Editor-in-Chief
For June, September, November Issues
*
1 Million to 2 Million Circulation
Men's Health
David Zinczenko, Editor-in-Chief
For September, October, November Issues
*
Over 2 Million Circulation
National Geographic
Chris Johns, Editor-in-Chief
For May, September, December Issues
Design, Print
Honors the effectiveness of design, typography and artwork in support of the editorial mission of the magazine
Wired
Chris Anderson, Editor-in-Chief
For March, May, August Issues
Photography, Print
Honors the effectiveness of photography, photojournalism and photo-illustration in support of the editorial mission of the magazine
Vanity Fair
Graydon Carter, Editor
For March, September, November Issues
Photojournalism
Recognizes the informative photographic documentation of an event or subject
National Geographic
Chris Johns, Editor-in-Chief
For "Shattered Somalia," photographs by Pascal Maitre; text by Robert Draper, May
Photo Portfolio
Honors creative photography and photo illustration, including portraiture
The New Yorker
David Remnick, Editor
For "Portraits of Power," photographs by Platon, December 7
Single-Topic Issue
Recognizes magazines that have devoted an issue to the in-depth examination of one topic
Wired
Chris Anderson, Editor-in-Chief
For "The Mystery Issue," May
Magazine Section
Recognizes the excellence of a regular, cohesive front- or back-of-back section
New York
Adam Moss, Editor-in-Chief
For "Strategist," April 20, May 25, October 26
Personal Service
Honors the outstanding use of print journalism to serve the readers' needs and aspirations
New York
Adam Moss, Editor-in-Chief
For "For and Against Foreskin," by Chris Bonanos, Michael Idov and Hanna Rosin, October 26
Leisure Interests
Recognizes excellence in service journalism focusing on recreational activities and special interests
New York
Adam Moss, Editor-in-Chief
For "The Great New York Neoclassical Neapolitan Pizza Revolution," by Rob Patronite and Robin Raisfeld with Michael Idov, July 20-27
Public Interest
Recognizes magazine journalism that illuminates issues of public importance
The New Yorker
David Remnick, Editor
For "The Cost Conundrum," by Atul Gawande, June 1
Reporting
Honors the enterprise, skill and analysis that a magazine exhibits in covering an event or problem of contemporary interest and significance
The New York Times Magazine
Gerald Marzorati, Editor
For "The Deadly Choices at Memorial," by Sheri Fink, August 30
Feature Writing
Honors the stylishness and originality with which the writer treats her or his subject
Texas Monthly
Evan Smith, President and Editor-in-Chief; Jake Silverstein, Editor
For "Still Life," by Skip Hollandsworth, May
Profile Writing
Honors the vividness and perceptiveness with which the writer brings his or her subject to life
Esquire
David Granger, Editor-in-Chief
For "The Man Who Never Was," by Mike Sager, May
Essays
Recognizes the writer's eloquence, perspective, fresh thinking and unique voice
National Geographic
Chris Johns, Editor-in-Chief
For "Top Ten State Fair Joys," by Garrison Keillor, July
Columns and Commentary
Recognizes excellence in short-form social, economic and political commentary, including humor
Newsweek
Jon Meacham, Editor
For three columns by Fareed Zakaria: "Worthwhile Canadian Initiative," February 16; "The Way Out of Afghanistan," September 21; "Theocracy and Its Discontents," June 29
Reviews and Criticism
Honors the knowledge, persuasiveness and original voice that the critic brings to her or his reviews
The New Yorker
David Remnick, Editor
For three reviews by Elizabeth Kolbert: "Green Like Me," August 31; "Flesh of Your Flesh," November 9; "Hosed," November 16
Fiction
Recognizes excellence in fiction published in magazines
McSweeney's Quarterly
Dave Eggers, Editor
For "Memory Wall," by Anthony Doerr, October 1; "Raw Water," by Wells Tower, October 1; "Further Interpretations of Real-Life Events," by Kevin Moffett; March 3
Have a tip we should know? tips@mediaite.com