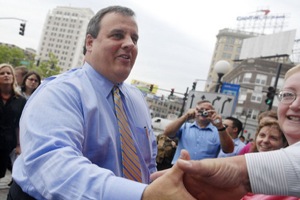 Washington Post columnist George Will has written an ode to "the nation's most interesting governor," New Jersey's Chris Christie, and his steely resolve in the face of the state's powerful unions. Will argues that Christie's "tough love" will be what's best for the state in the future– but will New Jersey have any teachers left when he's done?
New Jersey has the greatest number of government workers per square mile. It has an astronomical deficit and a failing educational system. Will argues that this is due in part to the fact that "Government employees' health benefits are, he says, '41 percent more expensive' than those of the average Fortune 500 company" and, like Christie, agrees that cutting government job benefits in the key to keeping taxes stable, something no New Jersey governor has done successfully.
Given the corrupt history of the state, one would think that the first place to look to cut spending is government bureaucracy jobs– of which an innumerable amount in the past decade have been discovered to be no-shows– or at least office jobs at the municipal level that are most dispensable. Christie is going after the most important government workers, the teachers:
Partly to pay for teachers' benefits — most contribute nothing to pay for their health insurance — property taxes have increased 70 percent in 10 years, to an average annual cost to homeowners of $7,281. Christie proposes a 2.5 percent cap on annual increases.

Challenging teachers unions to live up to their cloying "it's really about the kids" rhetoric, he has told them to choose between a pay freeze and job cuts. Validating his criticism by their response to it, some Bergen County teachers encouraged students to cut classes and go to the football field to protest his policies, and a Bridgewater high school teacher showed students a union-made video critical of him. Christie notes that the $550,000 salary of the executive director of the teachers union is larger than the total cuts proposed for 190 of the state's 605 school districts.
Will inadvertently highlights the case against this move with Christie's assertion that worsening the quality of life of thousands of teachers would not even amount to eliminating one lofty union leader job. In other words, Christie is deliberately hurting union members, acknowledging that neither the higher-ups nor the union institution would not be affected, and receiving praise from conservatives like Will for it. Of course, part of this is that Will, who is not a native Jersey boy, and many others who support Christie don't understand the fundamental law upon which the quality of the state's government runs: no matter how bad the previous governor of New Jersey was– no matter what his or her party ID or policy beliefs– the succeeding one will always be worse.
As bad as Christie Todd Whitman's frisking of a black man completely innocent of any charges (with photos!) was for her image and that of the state, she was spectacularly undone by successor Jim McGreevey's $100,000+ affair with a male Israeli citizen he named head of Homeland Security with a resume mostly consisting of "poet." And if state voters thought it was impossible to get any worse, Jon Corzine managed to put New Jersey in such economic shambles that he shut the entire state government and all of its casinos down unless the legislature agreed to raise taxes– this in addition to several corruption scandals during his tenure, including the enormous 44-person FBI raid last summer.
That's all to say that Christie has a tough act to follow. He is starting by making it even less appealing to become a teacher at a time when the nation is suffering a severe shortage of them, especially among science and math teachers. While supporters like Will may find his tactics appealing because they rile up the teachers' union, it is unmistakable that the union bureaucracy is not Christie's concern. In most of his rhetoric, he does not attack the teachers' unions or the boards of education– he attacks the teachers directly and is proposing pay freezes and benefit cuts that will do nothing to hurt the union bureaucracy but will significantly impact the quality of life of the people responsible for educating our children. That's not governing– that's bullying. And it won't end up helping New Jersey's children if they grow up to a budget surplus and an education deficit.
Have a tip we should know? tips@mediaite.com