Rothman: Liz Cheney's Wyoming Race a Turning Point for GOP on Gay Marriage?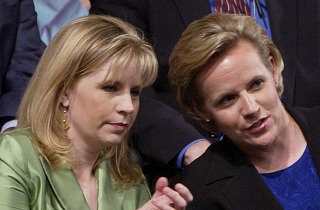 In The Daily Beast on Monday, Republican political analyst Ford O'Connell asks a provocative question: can former Vice President Dick Cheney's lesbian daughter, Mary Cheney, "save the GOP?" He answers, in a fashion, "Yes."

O'Connell examines a number of interesting developments in how Republican partisans and politicians view the issue of same-sex marriage, how rapidly the public's perception of gay and lesbian couples has evolved, and how the GOP can stop alienating a younger generation on the issue. But while he sees Mary Cheney as having the potential to reorient the GOP on the issue of marriage, O'Connell correctly writes that it is Liz Cheney's primary campaign in Wyoming that will have the most immediate effects on the trajectory of the GOP's opinion on gay marriage rights.
In Wyoming, where Republican Sen. Mike Enzi and Liz Cheney do not differ dramatically from one another on the vast majority of pressing political issues dominating the headlines today, social issues have emerged as one way in which the candidates can define themselves. Cheney's defeat in a GOP primary in deep red Wyoming would say a lot about her candidacy, her appeal, and the nature of that state's unique Republican primary electorate. It would also indicate something else that could surprise the nation's political observers. By losing what increasingly appears to the country to be a referendum on gay marriage, Cheney's candidacy may signal to the rest of the Republican Party that anachronistic anti-gay antagonism is not a campaign strategy in decline.
O'Connell opens by observing that Liz Cheney is not the rabidly anti-gay candidate progressives in the media have made her out to be. While she remains opposed to same-sex marriage rights – an intra-family feud that recently spilled out into the pages of America's newspapers and opinion sites – she is among the millions of Americans who do support civil unions.
Even this stance is far too radically liberal for agitators on the right, however, which survive on donations derived from identifying and isolating perceived enemies to the cause.
"They don't like that Liz Cheney celebrates holidays with her sister's family and has been a guest in their home," O'Connell writes. "They don't like that Cheney opposes a constitutional amendment to take the definition of marriage away from states and opposes laws that make it harder for gay Americans to visit their loved ones in a hospital, inherit their property, or adopt children."
Through the American Principles Fund, these extremists—the same kind of people who backed winners like Todd Akin and Christine O'Donnell—have spent a fortune in Wyoming running ads saying that Liz Cheney isn't conservative enough.
That Liz Cheney "isn't conservative enough" for these groups speaks volumes. Theirs is a tortured existence in which none pass their excessive purity test. This is by design. A world without traitors to the cause is a world in which insufficiently panicky donors put their wallets away.
RELATED: MSNBC Guest on Liz Cheney: Opposing Sister's Marriage Makes Her 'Infinitely Less Appealing as Human Being'
But this is a shocking disconnect from how the rest of the country sees the Wyoming primary race unfolding. For many, Cheney has become the anti-gay marriage candidate – a viewpoint perpetuated by shallow analysis on blogs and political talk shows.
Cheney has stated that she opposes a constitutional amendment to ban same-sex marriages by defining marriage as existing between a man and a woman alone. Enzi has stressed that he supports such an amendment. Beyond these positions, neither differ broadly on the issue of same-sex marriage rights.
O'Connell closes by observing that efficacy still trumps ideology, no matter how divisive the social issue in question may be. New Jersey's Gov. Chris Christie won reelection, in spite of his opposition to same-sex marriage rights, with the support of a host of traditionally Democratic voting blocs in the Garden State. The message he sees being sent to the GOP nationwide: "Stand by your principled opposition to gay marriage but don't alienate those who disagree with you."
A recent poll conducted by The Wickers Group from October 25-28 showed Enzi leading Cheney by 52 points. Less than one fifth of the GOP primary electorate in Wyoming support's Cheney's insurgent Senate bid. Though some caution that this same poll showed Sen. Ted Cruz (R-TX) trailing his primary opponent by similarly vast margins at this point in the calendar in the last election cycle, Cheney's personal favorability rating has also collapsed over the course of the last month.
Cheney is in a vexing position. Inside of her state, she is being painted as the candidate who is "wrong on marriage." Outside of her state, she is the equivalent of Gov. George Wallace on the issue of same-sex marriage rights. While this can be blamed on criminally shoddy reporting perpetuated by the Acela Corridor's political class, it is also the fault of a Republican establishment that appears to prefer the devil it knows in Enzi.
His ultimate victory could send unhealthy signals to the GOP that it can still run a bygone style of campaigns, in which the local messaging differs from the state-level or national message. In a 24-hour, internet-fueled election cycle, there is no such thing as an isolated, microtargeted campaign strategy that does not run the risk of alienating broader constituencies.
Ironically, Cheney's victory could signal to the GOP that former Indiana Gov. Mitch Daniels "truce" initiative is the ideal strategy for appealing to a broader electorate mistrustful of the Republican Party's social initiatives.
While Liz Cheney is anything but the Cory Booker of the West when it comes to gay marriage rights, Enzi's allies have staked out offensively anti-gay positions in their efforts to positively frame their candidate. His loss would demonstrate for other Republican office seekers that their careers are advanced by presenting themselves as fire-eaters on the issue of same-sex marriage rights. His victory, on the other hand, may signal just the opposite.
[Photo via AP Photo/ Charlie Neibergall ]
— —
> >Follow Noah Rothman (@NoahCRothman) on Twitter
Have a tip we should know? tips@mediaite.com