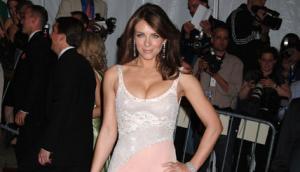 "Beauty is only skin deep? I think beauty is both skin and body deep!" says Elizabeth Hurley.
After writing yesterday's piece about the British actress and her work with the Estée Lauder people and the Breast Cancer Research Foundation, I find I have a few snippets of further insight to the beauteous Liz.
First, she has lost a lot of weight and is as slim and trim as any glamour queen. ("It's called cutting out sweets and fats and being lactose intolerant!")

And when I showed her a photo of herself from the London Telegraph, she laughed. "Oh, that picture is two years old. But it reminds me. It was taken on a night when I was appearing with Elton John. We were giving awards to aspiring actors. So I'm up there holding the award and the photographers are yelling at me – 'Liz, look this way! Liz, show a bit of leg!' And I was saying, 'Excuse me, I'm just trying to give this actor an award.'
"Elton was so aggrieved by all this rowdiness that he totally lost his temper. He ripped off all his jewelry and just went insane. We have a video of this which we like to show him to get him all riled up again! He is so great!"
***
WHEN I told Ms. Hurley that the British press criticizes her for being "so ambitious" she laughed again.
"Yes, you see, in England, nobody is supposed to show that they ever work hard. It's supposed to be about having inherited wealth that counts. So it's just like in college where we used to always pretend that we weren't really doing our schoolwork. One has to work secretly, on the side, in England. You're not supposed to make an effort, so there I am working to beat the band—designing, acting, running my organic farm, representing Estée Lauder and breast cancer research all over the world.
"But I love America because here people treasure work. In England, one is not supposed to make an effort."
***
Had A big laugh recently when I read that the daring stars of Ice Road Truckers were going to do a new show about driving in India.
It's one thing for these real hero drivers to shepherd big heavy trucks over the cracking ice in the Northern Hemisphere as you hold your breath and the ice threatens to, or does crack beneath their wheels.
But in India, it will just be the hazardous driving skills of Indians and the narrow roads filled with burdens, beasts and hordes of people that the truckers have to look out for.
I know a little bit about the "thrills" of driving in India. Not long ago I went from New Delhi to Agra and from there, home of the Taj Mahal, to Jaipur and from Jaipur back to New Delhi. They call it the Golden Triangle but there's nothing golden about it, except the fields of saffron flowers one passes with one's heart in one's mouth.

Liz Smith's column can be read in its entirety at Wowowow and is excerpted here under an agreement between Mediaite and Wowowow.
Have a tip we should know? tips@mediaite.com