Looks Like Claim That Khizr Khan's Travel Privileges Have Been Restricted May Be Bogus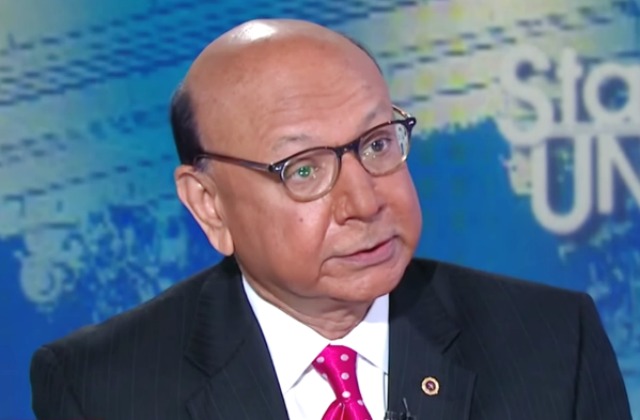 Earlier this week, it was reported that Gold Star father and vocal Donald Trump critic Khizr Khan had to cancel a speech in Canada because his "travel privileges are being reviewed." Obviously, with Khan being Muslim and this news coinciding with the announcement of a new travel ban by the White House, there was quite a bit of concern.
However, the story immediately drew suspicion because Khan is an American citizen. So one would think there would be no such restriction on travel between the United States and Canada. Rosa Hwang, the Canadian news producer who first dropped the story, said she was passing on what had been sent by Ramsay Talks, the event where Khan was scheduled to speak.
According to the Washington Post, it looks like there may be no truth behind this claim, which was apparently passed on the Ramsay Talks by Khan himself, who said he was not given any reason why his privileges were being reviewed.
However, Khan has been a citizen of the United States for 30 years and is originally from Pakistan, which is not one of the six nations covered by the travel ban. Khan also has not responded to requests for comment.
On Tuesday, Bob Ramsay, who runs Ramsay Talks, said he didn't know the specifics of Khan's predicament. "I don't know exactly who conducted the review, but in speaking with Mr. Khan, it was certainly U.S. authorities," Ramsay said. "That's all I know."

As questions about his motivations for making the claim swirl, Khan has refused to elaborate on his initial statement to The Washington Post and other publications. A more detailed request for clarification did not receive an immediate response Tuesday afternoon.
American citizens also do not need visas to travel to Canada and the United States cannot prevent those holding passports from traveling if they have not committed a crime. Per public records, Khan has no criminal history.
[image via screengrab]
—
Follow Justin Baragona on Twitter: @justinbaragona
Have a tip we should know? tips@mediaite.com