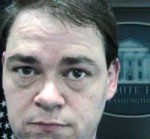 This is the kind of viral marketing that executives dare not even dream about.  In fact, while outlets like Gawker have come under fire for their use of sponsored content like Bloodcopy, the folks behind AMC's "Mad Men" are reaping huge PR dividends for free.  Their personalized icons have swept over Twitter like a nuclear daisy.
If you've never heard of "Mad Men," that's kind of the point.  AMC's series about an early-sixties ad agency is high on critical acclaim, but hidden away on basic cable.  The show's pitch-perfect period reproduction takes you right back to the days of 3-martini lunches, chainsmoking everywhere, and the kind of casual racism and misogyny that make last year's presidential race seem all the more miraculous.  If Proust had been smoking a cigarette, this show is what it would have tasted like.
It all started innocently enough, as I perused a link roundup at my other web home, Asylum.com, yesterday morning.  I came across the AMC "Mad Men Yourself" application, and gave it a whirl.  The site lets you create a stylized version of yourself patterned after the show's opening montage.  I liked the finished product, but itwas taking too long to download, so I skipped it.
Within hours, the Mad Men icons began dotting my Tweetdeck, like some martini-swilling Invasion of the Body Snatchers.  This put me in an awkward position, as I had spearheaded a movement to convert the White House Press Corps to South Park avatars.  The South Park tweeple are a very insistent bunch.  I made a silent pledge to hold firm against the onslaught.
I knew I was in trouble, however, when the originator of the South Park trend, Jake Tapper, crossed over.  As the day progressed, more and more of my Twitter pals made the switch.  Then, Tapper told me about the Mad Men suits (although he called them "ridiculous."  Is that some kind of hipster slang for "awesome?").  I feel like I'm inside some kind of internet horror show, The Stepford Tweeps.
Viral marketing is hit-or-miss at best.  For every "Blair Witch Project" (spoiler: it wasn't real), there's a ham-handed stunt like Bloodcopy.  The beauty of something like the Mad Men icons is that, even if you don't catch lightning in a bottle, you haven't really spent much.  If you score, you score big.
The appeal of the Mad Men app isn't hard to understand.  Everything about the series' look bespeaks cool, much like another recent icon-generator, Obamicon Me, which lets you personalize the famous Shepard Fairey campaign poster.
Perhaps the popularity of Mad Men will rise like a Mercury rocket in the Age of Obama, where it's okay to be hip and urbane, and to laugh at our bygone selves.  After 8 years of "flyover country," maybe it's time for a little reciprocal cultural exchange.
That still leaves me with my own avataristic dilemma.  I went back and re-did my "Mad Men" icon last night, but I still haven't made the switch.  I will let you decide.
Tommy Christopher is a freelance writer, blogger, and online journalist based out of New Jersey and Washington, DC. He has covered the progressive political scene and the historic 2008 elections, including live coverage from the Democratic National Convention in Denver, and becoming a freelance White House reporter in early 2009. This move follows a year in which he was able to break a number of big stories and was quoted in print and online by everyone from the LA Times and the New York Times to the Huffington Post and Hot Air. Tommy can also be found at his own blog: DailyDose.us. Follow him on Twitter here.
Have a tip we should know? tips@mediaite.com