Maher, Fluke the New Face of the Democrats? Not if the Media Can Help It
Rothman: Maher, Fluke the New Face of the Democrats? Not if the Media Can Help It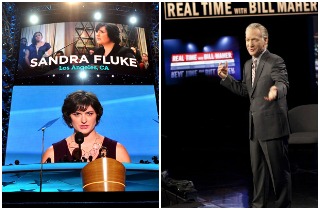 It was only last week that Fox News host and former Arkansas Gov. Mike Huckabee set the political world on fire when, speaking before the Republican National Committee winter meeting, he praised the GOP for expressing vocal opposition to the Democratic instinct to condescend toward women.
"If the Democrats want to insult the women of America by making them believe that they are helpless without Uncle Sugar coming in and providing for them a prescription each month for birth control because they cannot control their libido or their reproductive system without the help of the government, then so be it," Huckabee said.
Seconds after bearing witness to this discordant statement, the political press experienced a bout of collective arrhythmia. They barked in unison at the entertainer, chiding his crass word choice and lamenting how Huckabee had singlehandedly reversed any meager progress the GOP had made in the effort to rebrand itself as friendly to women voters.
While Huckabee has done nothing to tamp down the presidential speculation, he has also done nothing to merit the absurd level of scrutiny that accompanied his statement. The former governor has not courted donors or teased trips to Iowa and South Carolina in more than a year. While Huckabee apparently wants to be viewed as a political actor in some form, he is today nothing more than an entertainer. His atonal statements about Democrats undervaluing female self-reliance were, in this light, blown wildly out of proportion by the press.
The media's outsized focus on Huckabee is even more vexing when compared with the non-reaction to inflammatory comments made by another entertainer-cum-political figure. HBO Real Time host Bill Maher has positioned himself to have a measurable impact on electoral politics. The high-dollar Democratic donor recently previewed his determination to remove a GOP officeholder from office –- any Republican office holder, so long as they are deemed sufficiently "terrible" by his audience and are vulnerable enough to be susceptible to a successful Democratic challenge.
This is the same entertainer who recently joked that the cultural score between conservative and liberal America could be settled by a "mass shooting at the Country Music Awards." This is the same entertainer who satirized the right as monolithically racially-insensitive by calling President Barack Obama "brownie" and "President Blackula" on network television -– comments that would have resulted in boycott and firing threats had they been uttered in similar context by a conservative.
While Huckabee is savaged as a leading indicator of the right's antipathy toward the interests of women (defined exclusively as taxpayer-funded access to birth control), Maher is dismissed as a nonentity.
Speaking of birth control: Enter potential Democratic candidate Sandra Fluke. The reproductive rights advocate rose to prominence after she was called a "slut" by Rush Limbaugh after her testimony in favor of mandatory birth control coverage. On Tuesday, the activist took a step toward the U.S. House by seeking her party's endorsement to replace retiring 20-term Rep. Henry Waxman (D-CA)
Fluke became a figure in American politics based on her single-issue advocacy over birth control. Again, the media's proclivities and biases are exposed by just how unremarkable they find this development.
Fluke's singular issue is one that generates a mixed response from the public. While it's certainly contentious, one would not know it from how non-plussed the press has been by Fluke's entry into politics. Not only does she support contraception mandates without an escape clause for contentious objectors, she authored a 2011 paper in which she argued that employers should be forced to pay for their employee's voluntary sexual reassignment surgeries.
These values likely won't turn off voters in Waxman's Southern California district, but they sure would offend a few swing voters in Utah, Arizona, North Carolina, and West Virginia where the GOP is targeting vulnerable House Democrats. The press would do the Democratic Party no favors by elevating Fluke — an obscure candidate who is nonetheless representative of a leftward shift in her party — to prominence.
Fully aware of this dynamic, the press will likely dub Fluke's candidacy as not indicative of much of anything.
The media seems to forever be on the lookout for the "new face of the GOP," always noting that this or the other candidate is representative of a regressive impulse within the party. Meanwhile, wildly out-of-step actors on the left almost never get the same treatment.
[Photo via HBO/AP]
— —
> >Follow Noah Rothman (@NoahCRothman) on Twitter
Have a tip we should know? tips@mediaite.com