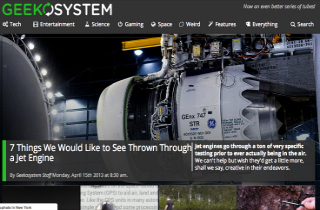 In the three and a half years, my sites have been producing content on the web, we have launched numerous new properties in different verticals with varied looks and functionality. Some like Mediaite.com and Styleite.com always have stories on the front page in an order determined by the editors, while TheBraiser.com and SportsGrid.com often have a lead story followed by a chronological blog roll. Yet others like (the old) Geekosystem.com, TheJaneDough.com, and TheMarySue.com are purely chronological. All of our sites have a "top shelf" on every page which showcases the most interesting stories as selected by the editors.
Today we enter the world of 2013 with our first major redesign beginning on Geekosystem.com and sponsored by GE. This new design will likely be implemented across all of our sites in the near future. The new layout is cleaner, the social media sharing tools more enticing, the sizing of images more consistent and the lead story far larger, but there are three particularly important elements:
1) Responsive design, which ensures that the site uses the same basic template on all desktop and mobile devices and adapts to fit a particular device. With our mobile traffic increasing by the day, this was a necessary change.
2) New layout of advertisements in recognition of the decreasing significance of banner ads. Instead of ensuring that our largest ad unit on the front page is "above the fold," we have intentionally placed it lower on the page to allow for more integrated ad experiences so that we can offer our partners a larger, bolder palette with which to work.
3) A front page broken down more clearly based on categories. This allows either an advertiser, or reader interested in a specific topic, to have an impactful and/or easy to find destination on the front page of the site.
There is no question that this is a work in progress and we will be adding more functions in the days and weeks to come. For some of our other sites, we will likely use lighter background colors and make other cosmetic changes. Regardless, this is a big step forward for us.
A hearty congratulations and thanks goes out to my development team (Justin, Zack and Sean) who worked tirelessly to put this on the fast track after we confirmed the sponsorship date. This was their concept and execution and I salute them for all the creative work they did to make this happen.
We are really excited about this and hope you are too. Check it out here and let us know what you think.
Have a tip we should know? tips@mediaite.com