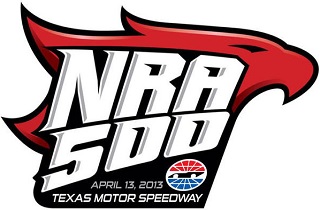 Tragedy struck at a NASCAR Sprint Cup race this weekend when 42-year-old Kirk Franklin shot himself on the infield of the Texas Motor Speedway, an infield which was emblazoned with a logo featuring the race's sponsor, the National Rifle Association. According to police, alcohol may have been involved in the shooting, and the altercation that preceded it. Saturday's NRA 500 race was the NRA's first Sprint Cup sponsorship, but NASCAR says it will "take a closer look" at their process for approving sponsors going forward. Sen. Chris Murphy (D-CT) sent a letter of protest to NASCAR last week, asking them to drop the NRA as a sponsor. Murphy also asked Fox not to broadcast the race.
From Yahoo! Sports' Nick Bromberg:
The death of a man in the infield of Texas Motor Speedway on Saturday night during the Sprint Cup Series NRA 500 has been ruled a suicide from a gunshot to the head, according to the Tarrant County Medical Examiner's office.

The incident happened late in the race when Kirk Franklin, 42, of Saginaw, Texas, apparently got into an argument with other campers, according to the Associated Press. Track spokesperson Mike Zizzo said Saturday night that the incident happened "in or around a pickup truck" in the infield.

Firearms were prohibited by Texas law from being brought in to the track by fans. The NRA's sponsorship of the race came under scrutiny when it was announced earlier this year after Michael Waltrip ran a Sandy Hook benefit car at the Daytona 500 encouraging fans to text to give to Newtown, Conn. It was the NRA's first Sprint Cup Series sponsorship; it sponsored the Nationwide Series race at Atlanta Motor Speeedway in September.
The sponsorship agreement was made at the local level, between the NRA and the racetrack, which is apparently a relatively cheap way to get a lot of exposure. Some conservatives were concerned that the sponsor's name wasn't featured prominently during coverage of the race, but it turns out the NRA didn't want to pay extra for that.
The juxtaposition of a giant NRA logo with a high-profile gun death isn't likely to encourage future NASCAR sponsorships by the NRA, but even notwithstanding that arrangement, the Sprint Cup race at Texas Motor Speedway is inextricably linked with gun culture. Traditionally, the winner of the race celebrates by firing six-shooters into the air:
The association with the NRA certainly didn't seem to hurt the event financially, as track president Eddie Gossage tweeted that merchandise for the race sold out two and-a-half hours before the race started. The race was won by Kyle Busch, who moved up to fourth place in the Sprint Cup standings with the victory.
Have a tip we should know? tips@mediaite.com