Marco Rubio's 'Low-Budget' Campaign Stole Wi-Fi From Nevada Pizza Place (UPDATED)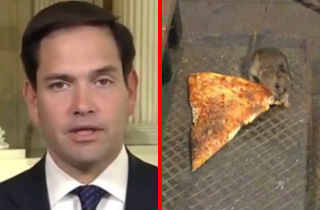 In an effort to keep costs down, Nevada campaign staffers for Republican presidential candidate Marco Rubio took advantage of a local pizza place's offer of free Wi-Fi for customers.
The Associated Press recently surveyed the campaign's efforts to operate with a "shoestring budget." The fiscally-conservative efforts have apparently been a "point of pride" for the junior Florida senator's team, and one of its major talking points throughout the campaign.
However, buried towards the end of the article is a little ditty about some not-so-nice cost-cutting measures taken in Nevada.
At one of the campaign's Nevada offices, staffers tried to do their part to live up to the less is more mantra. After noticing a pizza place next to a campaign office had free wireless internet that required a password, a staffer walked over and bought two pieces of pizza and asked for the internet access code.
Three weeks on the business asked the Rubio campaign to stop using their Wi-Fi since it was reserved for current customers. And even though a staffer did buy some pizza in order to become a "customer," this hadn't become a regular enough practice to encourage the staff's continued use of the Wi-Fi.
To quote the great social philosopher Toby Keith, "Freedom isn't free."
UPDATE–1:45 p.m. ET: Rustica Pizzeria owner Sven Oberlaender told the Las Vegas Sun that he didn't know Rubio's campaign had "stolen" his business's Wi-Fi until Thursday, when the Associated Press article (and Mediaite's subsequent coverage) went viral.
"(The campaign) told me this morning about the AP story and they told me that there might be media attention about my Wi-Fi and I was like, 'What?'" he said. "That was first time I heard about them using it."
Oberlaender also told the local paper that Rubio's campaign staff were "customers and come in all the time to eat at my place — a whole bunch of people — so I am absolutely not upset."
Someone claiming to be Oberlaender commented on this article Thursday afternoon. Here's the full text:
Interesting! Let me introduce myself, my name is Sven and I am the owner of the Pizza Place next door to the Marco Rubio campaign office. First off I am appalled that they use a picture of a slice of pizza with a rat. We have constant A-Ratings from the health department and as far as I know there has never been a single rat in the building. Regarding the Wi-Fi: We offer free Wi-Fi to our customers. The Marco Rubio campaign people are good and regular customers who come almost on a daily basis. I, and no other staff member, has EVER ASKED them to stop using our customer Wi-Fi. This is simply made up and not true. I am unaware to what extend our Wi-Fi was used. But quite frankly I don't see it as a big deal. They assured me they got their own Wi-Fi now and use it for their work. Rest assured: every customer can use our free wi-fi, no matter what political candidate you support. Come by if you are in the area: Rustica Pizzeria, 9730 W Tropicana Ave. (Tropicana and Grand Canyon).
[h/t Associated Press]
[Image via screengrabs]
— —
>> Follow Andrew Husband (@AndrewHusband) on Twitter
Have a tip we should know? tips@mediaite.com