Stewart: Trump Candidacy Is 'Like an Internet Comment Troll Ran for President'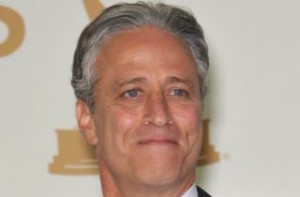 Former Daily Show host Jon Stewart revived his famed political commentary Tuesday at the Stand Up for Heroes benefit in New York, asking the audience, "Are we really doing this Donald Trump thing?"
"We're really doing that as a country?" Stewart continued, adding that the Republican frontrunner is "f*cked."
"I like to put my name in giant letters on everything I own as much as the next guy," Stewart said. "But the only other people that do that are like 8-year-olds going to camp."
Stewart then launched into his impression of the business mogul. "Where did I put that building? Oh there it is, Trump. Boom," Stewart joked. "Where's my f*cking helicopter? Boom, Trump."
Stewart told the audience Trump's candidacy is "like an Internet comment troll ran for president," noting that people like Trump because "he says what he thinks."
"What he thinks is stupid," Stewart retorted.
The comedian also criticized Trump's rival, Ben Carson, suggesting Carson has "the greatest juxtaposition between volume of voice and craziness of shit he says."
"He says the softest spoken crazy shit I've ever heard," Stewart said, evoking Carson's childhood story about threatening a person with a hammer.
Stewart poked fun at Democratic candidate Hillary Clinton, declaring Clinton is "going to be president," before clarifying "Even if she loses, she will f*cking be president. She will not be denied."
At one point, Stewart launched into a fierce criticism of gun laws in the United States, telling the audience, "we don't do shit about guns."
"I'm not trying to take people's guns away," Stewart said. "Let's just be smart about it. But we won't even f*cking talk about it. 30,000 people die each year — suicides, homicides, guns. We don't do shit. We don't do anything. We don't even say anything."
Stewart noted the differences between buying a gun and adopting a cat, pointing out that the only thing you need to buy a gun is money.
"You know what you need to adopt a cat?" Stewart asked. "… They come to your f*cking house!"
[h/t The Hollywood Reporter]
[Image via Shutterstock]
—
>> Follow Elizabeth Preza on Twitter (@lizacisms)
Have a tip we should know? tips@mediaite.com