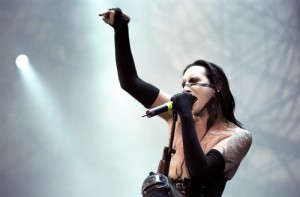 While shock-rocker Marilyn Manson didn't say anything about his January fued with Fox News' Greg Gutfeld, he did open up about the Columbine High School shooting and how it detrimentally affected his career.
Manson spoke with the Grey Group's Tor Myhren during a music seminar at Cannes Lions on Monday. Among other things, they discussed the 1999 tragedy, the media's push to finger Manson for the blame, and how it affected the singer's career at the time.
"With Columbine," Manson told the crowd, "it really shut down my career entirely, to the point where casinos — gambling establishments — refused to book my shows."
At the time, early unconfirmed reports that Eric Harris and Dylan Klebold were fans of Manson's, and even inspired by his music to massacre 15 people, spread throughout the national media. The blowback became so intense that Manson, who was on tour at the time with his band, decided to cancel all remaining North American shows "as a show of respect for those killed."
In a statement to The New York Times, Manson responded with ire to his critics:
The media has unfairly scapegoated the music industry and so-called Goth kids and has speculated, with no basis in truth, that artists like myself are in some way to blame. This tragedy was a product of ignorance, hatred and an access to guns. I hope the media's irresponsible finger-pointing doesn't create more discrimination against kids who look different.
Back at Cannes Lions, Manson said he was gradually able to recover from the public's falsely-informed desire to tar and feather him and other musicians like him, but admitted he was still bitter over the media's handling of it all.
"They put these two killers on the cover of Time magazine. I've never been on the cover of Time magazine. That's the whole point."
[h/t Adweek]
[Image via Shutterstock.com]
— —
>> Follow Andrew Husband (@AndrewHusband) on Twitter
Have a tip we should know? tips@mediaite.com