Mark Williams, Author of Letter from "Coloreds," Kicked Out of Tea Party (Updated)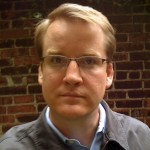 I don't happen to know any leaders of the Tea Party, but I think I can guess their reaction when Mark Williams posted his letter mocking "Coloreds": OY.
The fall-out: Williams has been booted from the National Tea Party Federation, according to spokesperson David Webb this morning on Face the Nation. CNN reports:
"We, in the last 24 hours, have expelled Tea Party Express and Mark Williams from the National Tea Party Federation because of the letter that he wrote," Webb said of the blog post by Williams that satirized a fictional letter from what he called "Colored People" to President Abraham Lincoln.

Webb called the blog post "clearly offensive."
Even more offensive, but less noted, were Williams' responses to the comments the post received. Outside of the contrived context of black people writing to Lincoln, Williams spoke freely:
Where in that article do you see me addressing American Blacks, or any black people for that matter?

I am mocking those people who call themselves "Colored People" and who are now fighting to be kept as government owned pets, whilst hurling charges of racism at those who embrace freedom and civil rights.

It is in your head that the term "Colored People" means "Black".
…and:
Such is the crippling power of PC that otherwise freedom loving people cave at the first whiff of what somebody else might think. I personally do not care what the lowest common denominator thinks of me, they are the current administration?s power base and are kept like favored house pets. They are fighting against your and my right to think and speak, and they are winning.
…and:
…"massa" owned slaves. The group that calls itself "Colored People" want government to be the new massa.

Try thinking for yourself instead of getting all hung up on whatever baggage filled with guilt you?re carrying around. The entire point of my book "One Tea Party at a Time" is that you are crippled – mentally and emotionally by political correctness and thus powerless to defend yourself. You are at the mercy of whatever you fear somebody else may think of you.
Williams' original blog post (now removed), with those comments, is preserved below:

Williams' post was, of course, prompted by the Tea Party/NAACP kerfuffle this week. But if it hadn't come out at a moment that the Tea Party was conscious about charges of racism, or if Williams hadn't poured gasoline on the fire in the comments section, I'm curious what, if anything, would have happened. After all, the infamous Dale Robertson "niggar" sign is still available in high-resolution on the Houston Tea Party's website.
In the Times this morning, Matt Bai notes that much of the racial tension around the Tea Party may stem from generational differences in perceptions of race. May be. But whatever the cause, racial politics are an ongoing challenge to a movement that seeks to speak for all Americans while only rarely expelling those whose definition of "Americans" is related to skin color.
Booting Williams should be seen as a good sign by all sides. For leaders of the Tea Party movement, the only question is: was there even any debate?
(UPDATE) Tea Party Express Mark Williams responds below:
Have a tip we should know? tips@mediaite.com