Martin O'Malley Criticizes Hillary Over Same-Sex Marriage Flip-Flop, Is Totally Probably Running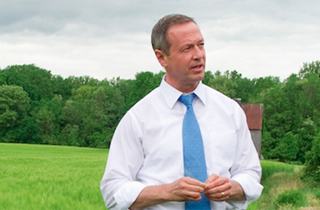 Now that Hillary Clinton has declared her candidacy for president, the Democrats are realizing that she is a colossus, with no one striding to oppose her. The only person likely to oppose her is Maryland governor Martin O'Malley, and he ain't talking –but he will criticize Hillary over her flip-flops.
"It's a colossal undertaking, and there are many different components of [a presidential race]", O'Malley said at a Harvard University event, according to The Guardian. "Organisation, policy, personnel –- its a lot to put together…I've never run a bad race, and I don't intend to start now –– if I were to do this."
He did, however, drop this morsel of intrigue when asked about how he viewed Clinton's changing her positions on gay marriage and driver licenses for undocumented immigrants. Such a tasty morsel, it is:
"I'm glad Secretary Clinton's come around to the right positions on these issues," O'Malley told the Guardian during the forum at Harvard's Institute of Politics. "I believe that we are best as a party when we lead with our principles and not according to the polls.

"Leadership is about making the right decision, and the best decision before sometimes it becomes entirely popular."

While the response did not represent a direct attack line from Clinton's would-be rival, it represents the most confrontational moment from O'Malley toward his potential opponent since Clinton announced her candidacy on Sunday – with perhaps many to come before November 2016.
Dang it, Democrats, you're so far behind in the Endless-Speculation-About-Whether-A-Politican-Will-Declare-His-Candidacy-Or-Not game. We already went through five months of this for the GOP. Y'all some serious Johnny-come-latelys.
[The Guardian]
[Image via Martin O'Malley/Twitter]
—
>> Follow Tina Nguyen (@Tina_Nguyen) on Twitter
Have a tip we should know? [email protected]