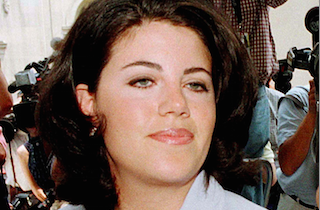 When Vanity Fair released excerpts from Monica Lewinsky's upcoming tell-all article yesterday, one media figure who got a specific shout-out was New York Times columnist Maureen Dowd, or "Moremean Dowdy" as Lewinsky says she liked to call her in the '90s.
"Monica Lewinsky says she would meet me for a drink," Dowd writes in a column published Wednesday, in reference to another Vanity Fair quote. "I'm game."
Dowd, who won a Pulitzer Prize for her series of columns on the Bill Clinton-Monica Lewinsky scandal, goes on to wish the soon-to-be-40-year-old former intern "luck" with her reemergence into the spotlight, but she also warns her about the "danger" of capitalizing on her fame just as Hillary Clinton is (possibly) ramping up her bid for the White House in 2016.
Answering Lewinsky's decades-old charge that she wrote "scathing" pieces about her, Dowd writes:
"My columns targeted the panting Peeping Tom Ken Starr and the Clintons and their henchmen, for their wicked attempt to protect the First Couple's political viability by smearing the intern as a nutty and slutty stalker. I did think Monica could skip posing for cheesecake photos in Vanity Fair while in the middle of a plea bargain. But I felt sorry for her. She had propelled herself into that most loathed stereotype (except by Helen Gurley Brown): the overripe office vixen who seduces her married boss. Feminists turned on her to protect a president with progressive policies on women."
As for the question of Lewinsky's timing, Dowd writes that she "must feel that her reticence over the last 10 years of 'self-searching and therapy' has led the public to hunger for her thoughts on the eve of Hillary's book rollout in June and at a moment when President Obama is struggling to pull focus back from the Clintons, whose past and future are more dominant than Obama's present."
Ultimately, Dowd appears to believe Lewinsky's newfound reflections are less about helping Hillary and more about helping herself, adding, "Monica is in danger of exploiting her own exploitation as she dishes about a couple whose erotic lives are of waning interest to the country."
[Photo via Tim Aubry/Reuters]
— —
>> Follow Matt Wilstein (@TheMattWilstein) on Twitter
Have a tip we should know? tips@mediaite.com