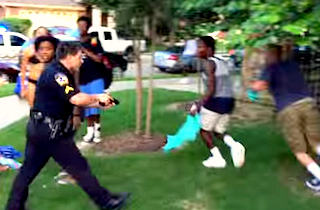 Ex-McKinney officer Eric Casebolt got the public's attention as the subject of a video showing him shove a teenage African-American girl to the ground and pulling his out his gun on the other teens nearby. Today his attorney stated that his actions were due to allowing "his emotions to get the better of him," and that he was "not targeting minorities."
Jane Bishkin said that Casebolt's actions in the video were not a definition of his 10 years of service, but court records show that this was not the only instance where Casebolt used excessive force towards African-Americans.
The International Business Times reported that in 2007, Casebolt and two other McKinney officers were brought before federal court for violating the civil rights of Albert Earl Brown, Jr. Brown alleged that Casebolt approached his parked vehicle and made a series of snide comments about his clothes and white female company before doing a cavity search on the side of the road. Brown added that Lee Keith, one of the other officers, grabbed his head during the examination and slammed his face into the hood with "intent to cause bodily harm."
Brown filed a lawsuit against Casebolt and the other officers, charging them racial profiling, excessive force and falsifying information. Casebolt alleged at the time that he approached the car because it was parked on the wrong side of the road, but went ahead with his search, saying that he saw marijuana seeds, an open pack of beer and crack cocaine. Brown was arrested and charged for possession of a controlled substance.
The lawsuit was dismissed in 2009 because Brown was did not trust his court-appointed attorney to gather the evidence for his case, and his incarceration made it impossible for him to get it himself.
Casebolt resigned on Tuesday as a result of his conduct from the pool-party incident, hoping that it would give McKinney a chance to move on.
— —
>> Follow Ken Meyer (@KenMeyer91) on Twitter
Have a tip we should know? tips@mediaite.com