Media Ethics: Should This Reporter Have Announced Himself On A Government Conference Call?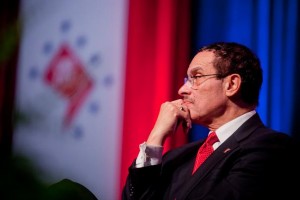 Quiz time.
A local news reporter is given a call-in number by city staff for a press briefing. He calls in.
What he hears, though, is the staff of an elected official discussing internal business. Nothing salacious (or even particularly interesting) but not the call he was expecting.
What should he do? Should he announce himself? Discreetly disconnect? Listen in?
If he were the Washington Examiner's Freeman Klopott, he'd listen in.
When calling in to what he thought was a press discussion led by the DC Mayor, Klopott instead heard discussion of social media strategy by what he believes were Administration spokespeople.
The only thing that was noteworthy about the incident, in fact, was that Klopott stayed on the line. When he first realized he was not hearing the call he expected, he tweeted about it:
Ok, they changed it to 5:15 and now I believe I'm listening to an internal conference call… staying on the line
As he shared what he was hearing, someone from the DC Department of Insurance, Securities and Banking indicated that he was listening to a private conversation, and looped in other city representatives.
And then it reached the Mayor.
@fklopott Did you announce your presence to the participants when you realized it wasn't the reporters' call you thought it was?
Nope, just when I logged on, and on Twitter MT @mayorvincegray: @fklopott Did you announce your presence to participants…
Klopott later clarified for TBD, which has the full story: he'd given his name when prompted by the conference call system, though he doesn't know if he was announced.
The back-and-forth continued for a while, culminating in this testy exchange:
@mayorvincegray Mr. Mayor, let's stop with the questions. If you want to say something about my conduct then say it. I stand by my actions.
@fklopott I asked you two questions. You answered one of them. But I think we've both made ourselves clear.
Klopott reports that they have since spoken, and that it ended on a positive note.
And now the answer to the quiz. Klopott was in the right. He was given information about a call by city staff, and called in to it. He announced himself – both on the call and almost immediately on Twitter. He listened to the conversation and reported on it.
It's understandable why the Mayor and city staff would be annoyed – they certainly didn't intend for a reporter to be on the call. But the error was theirs. History is rife with examples (even recent ones) where elected officials accidentally expose information to the press. It's Klopott's job to report on what he finds out about the government – interesting or not.
It may not be what you would do if you overheard a private call. But that's not the scenario. It's easy, particularly given what's happening in the UK, to assume that reporters are bound to the same social norms the rest of us are. They are not. (See Gawker's interesting – and misunderstood – article to that effect.)
It's critical that they not be. No matter how embarrassing – or banal – the results.
(Photo: Jay Westcott From TBD)
Have a tip we should know? tips@mediaite.com