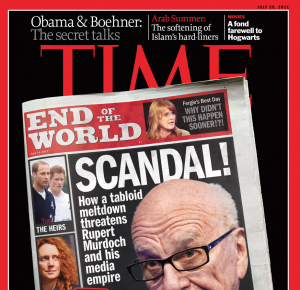 Just a matter of days ago, most Americans had probably never heard of the U.K. tabloid News of the World. Tomorrow, a mockup of the now deceased newspaper makes the front page of TIME, hitting newsstands across the country. "SCANDAL!" reads the headline, followed by the sub-hed "how a tabloid meltdown threatens Rupert Murdoch and his media empire."
The cover story, by Catherine Mayer, outlines the scandal that boiled over in Britain and led to the demise of the 168-year old News of the World, and contemplated the larger impact the scandal may yet have on Murdoch and the media empire he's steadily built over decades:
There are plenty in the global mediasphere who relish the sight of the great tabloid baron being pursued by the very paparazzi he'd paid and promoted. Murdoch's empire, which stretches in print, broadcast and digital media from Australia across Asia and Europe to the U.S., is more than a collection of trophies, and Murdoch is more than a media honcho. In the U.S., he expanded network television by creating Fox Broadcasting; he revalued nearly every major sport by inflating the price of broadcast rights; he rewired the circuits of political discourse by devising the right-leaning Fox News Channel. And he staked his claim to muscular journalism for the ruling class when he bought the Wall Street Journal in 2007. In the U.K. in the 1970s and '80s, he was the interloper of Fleet Street, a hated figure who bought broken newspapers and then broke the back of the newspaper unions in his effort to yank the industry into the 20th century. Murdoch won that battle and went on to pummel his rivals in an unrelenting circulation war that didn't end until he had control of the upscale Times and the downmarket Sun as well as the News of the World.

This makes Murdoch a cultural force the likes of which we haven't seen since William Randolph Hearst.
TIME cites interviews with "several public figures (who) wish to remain anonymous for fear of attracting reprisals or compromising future legal actions" who detail examples of how News Corp. gained access to the most intimate information from politicians, celebrities and others. The story suggests Murdoch may have sacrificed his newspaper for those misdeeds in an effort something he values more: his reputation.
Have a tip we should know? [email protected]