Media Matters Gives Glenn Beck's Co-Hosts The Shirley Sherrod Edited Audio Treatment (Update)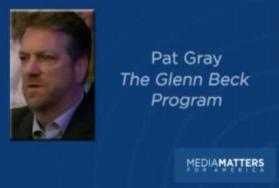 Let's end the week with some Shirley Sherrod-ing – editing a clip to make it sound like a person is saying something that is actually the complete opposite of what they're saying.
In this case, the offender is Media Matters, which tries to prove that Glenn Beck's radio co-hosts were saying Keith Olbermann was responsible for the deadly Manchester workplace shooting.
Here was Media Matters' (sic'ed) headline: "Beck sidekicks Gray and Burguiere: Keith Olberman and media responsible for Manchester shooting."
The sidekicks are Pat Gray and Stu Burguiere, who co-hosted with Beck out today. And why did Media Matters write this? Well, because that is what Gray and Burguiere said – at first. Gray: "Obviously Keith Olbermann is responsible for those eight people dead."
And Burguiere: "A guy like that who's a little bit unstable anyway can't help but react to the constant pressure of Keith Olbermann on the air on MSNBC and all of MSNBC talking about all the racism there is out there."
But the problem is, the co-hosts were being sarcastic, to make a point. A minute later they get serious, and Stu says "Keith Olbermann was not responsible for any shooting," but that part is conveniently out of the Media Matters audio. Because Media Matters cut the audio right before they make it clear.
Right after the Media Matters edit, Burguiere says:
Obviously we're making a point here. Let's move that to the case against the tea party members. They're constantly convinced that the government is after them, that they are going to come take their guns. Well, who is always talking about that? Glenn Beck. So therefore he's responsible for every time anyone does anything, even, you know, violent.
Later, Gray says, "Just like he can't blame Keith Olbermann for this dumb racist thing." And Burguiere reiterates: "Keith Olbermann was not responsible for any shooting. Keith Olbermann is not, it's not possible for him to sit there and inspire that by talking about a topic."
> Update: MMFA has updated their post:
CORRECTION: The original headline on this clip did not make clear that Beck's co-hosts were being satirical when they linked MSNBC host Keith Olbermann to the Manchester shooting. The original clip also did not include their subsequent statements that Olbermann was not responsible for the shooting. Media Matters regrets the error.
In other words – the exact opposite of Media Matters' post. Here's the full audio of the segment:

—–
» Follow Steve Krakauer on Twitter
Have a tip we should know? tips@mediaite.com