Media Twitter Mocks Breitbart Piece Critical of NY Times Reporter: 'Literally How Reporting Works'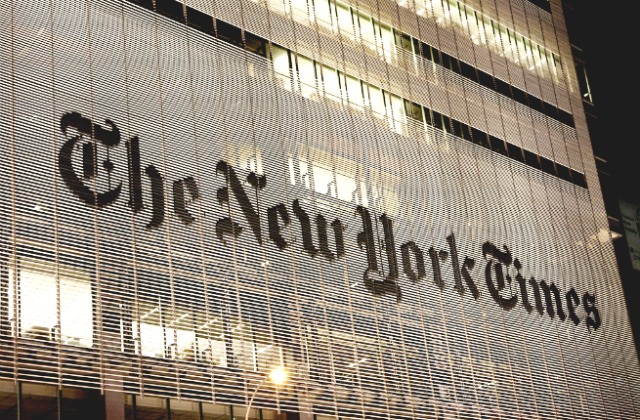 A Breitbart report on how a New York Times reporter solicited information was met with guffaws on Media Twitter.
According to the report, Times reporter Coral Davenport––who covers energy and environmental policy––committed the sin of emailing someone to ask for information:
"As I mentioned, I'm working on a story looking specifically at concrete examples of unusual secretary at E.P.A.," Davenport states, continuing:

I've heard a lot of second-hand rumors, but in order to report these incidents, I'd need to have first-hand or eyewitness accounts. I'm looking for examples of things like, information being communicated only verbally when it would historically have been put in writing, people being told not to bring phones, laptops or even take notes in meetings where they would in the past typically have done so, eyewitness accounts of things like the administrator or top political appointees refusing to use official email, phones or computers, or any other specific, first-hand examples of practices that appear to demonstrate unprecedented secrecy or transparency.
A spokeswoman for the Times told Breitbart, "The email demonstrates the process of reporting and gathering facts."
And, well, yeah:
This is literally how reporting works. You call and email and text and beg people to tell you things. https://t.co/eRsF7yEqXS

— Josh Dawsey (@jdawsey1) August 8, 2017
It's true. Reporters ask people for information. https://t.co/3tPToA0kYU pic.twitter.com/88oLzBD4ko

— Brad Heath (@bradheath) August 8, 2017
This is what reporters should be doing. And why it's so misguided to create "solicitation" crimes for journalists https://t.co/H0jUJLmjCF pic.twitter.com/eNI50x08l2

— Glenn Greenwald (@ggreenwald) August 8, 2017
I am disturbed to learn that the New York Times has been talking to government employees to do journalism. https://t.co/gGnuCtkpHS

— Matt Pearce (@mattdpearce) August 8, 2017
Major Breitbart Scoop: The failing New York Times unmasked for . . . reporting. https://t.co/Sf1E2Yj1z8

— Bari Weiss (@bariweiss) August 8, 2017
State media thinks it's a scandal that actual media does something called "reporting" https://t.co/LrZbRTlvI3 pic.twitter.com/xoZesXcBk4

— Matt O'Brien (@ObsoleteDogma) August 8, 2017
Area Reporter Does Job, Investigation Reveals https://t.co/6MtQmGJiC0

— Colin Campbell (@colincampbell) August 8, 2017
"Soliciting government employees to become leakers," or as it's widely known: "journalism." https://t.co/rTHsGznKCc

— Byron Tau (@ByronTau) August 8, 2017
BREAKING: The New York Times' EPA reporter @CoralMDavenport reports on the EPA. https://t.co/SWft23BpcA

— Kenneth P. Vogel (@kenvogel) August 8, 2017
Big Breitbart exclusive catches reporter engaging in reporting https://t.co/CfFtBgFCE1 pic.twitter.com/dUztgX9UOx

— Will Sommer (@willsommer) August 8, 2017
Silly Breitbart story is a perfect distillation of how professional media bashers count on audience not knowing basic stuff about reporting

— Alex Burns (@alexburnsNYT) August 8, 2017
Breitbart scoops that reporters tend to report pic.twitter.com/UXvxX3d1CE

— andrew kaczynski ? (@KFILE) August 8, 2017
Breitbart wouldn't know what reporting is if they literally obtained an e-mail describing the process and then wrote about it.

— Niraj Chokshi (@NirajC) August 8, 2017
EXCLUSIVE: Breitbart completely unfamiliar with journalism: https://t.co/UJWPi3hh4B

— ErikWemple (@ErikWemple) August 8, 2017
Kinda' perfect. Breitbart discovers how journalism happens, reports it as scandalous breaking news. https://t.co/zlSOCpl5sr

— Radley Balko (@radleybalko) August 8, 2017
What's so funny about this is… This is what reporters do! Regardless of administration! https://t.co/3hwntRl8jH

— Annie Lowrey (@AnnieLowrey) August 8, 2017
absurd article from br**tbart revealing the "scandalous" act of an excellent reporter doing her job in a responsible manner. what a joke. pic.twitter.com/tQl0pd2aSG

— ಠ_ಠ (@MikeIsaac) August 8, 2017
Investigative journalism. How does it work? https://t.co/I3JctV6JSz

— Liam Donovan (@LPDonovan) August 8, 2017
[image via Osugi / Shutterstock.com]
— —
Follow Josh Feldman on Twitter: @feldmaniac
Have a tip we should know? tips@mediaite.com
Josh Feldman - Senior Editor